Take your caffeine addiction to the next level with these 3 dessert ideas to make with coffee.
Guest Post By: Tony Manhart, founder & editor-in-chief at Gardening Dream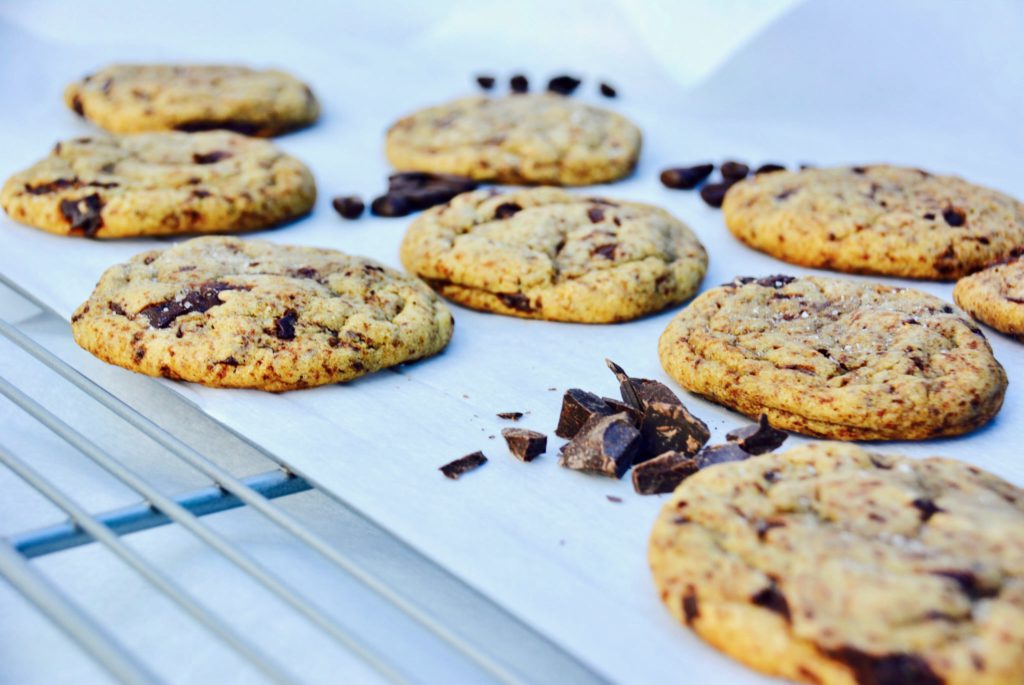 Coffee and desserts

go hand-in-hand, there's no doubt about it.
Tiramisu is one of the best coffee dessert pairings due to its sweet and coffee-infused base.
Read on to find out about two other amazing desserts to pair with your morning coffee.
There's nothing a slice of good dessert can't fix. Heals even broken hearts, right? Today we have prepared for you the top three dessert ideas to make with coffee.
Trust us, these desserts are easy to create at home, and are so delicious that you will surely want to try them all. Feel free to consider these mouth-watering delicacies your top choice for a perfect Sunday morning brunch or an afternoon tea party. Let's dive in!
3 Desserts ideas to make with coffee
Can't start your morning without a cup of coffee? Welcome to the club; make yourself comfortable because we have prepared several ideas for you that you won't be able to resist.
Do you know what we like the most? These are guaranteed to be sweet desserts infused with coffee, without being overwhelming. In short, they're all heavenly delicious!
Tiramisu
Here's an interesting naked truth to start with. Are you familiar with the fact that the word tiramisu literally means "pick me up"? Crazy right?
According to what we've researched, it is believed that this Italian dessert was invented by the clever "hostess" of the house of pleasures in the center of Treviso. Namely, this delicacy was considered an aphrodisiac, the forerunner of the famous Viagra, which was served to customers for refreshment at the end of the evening.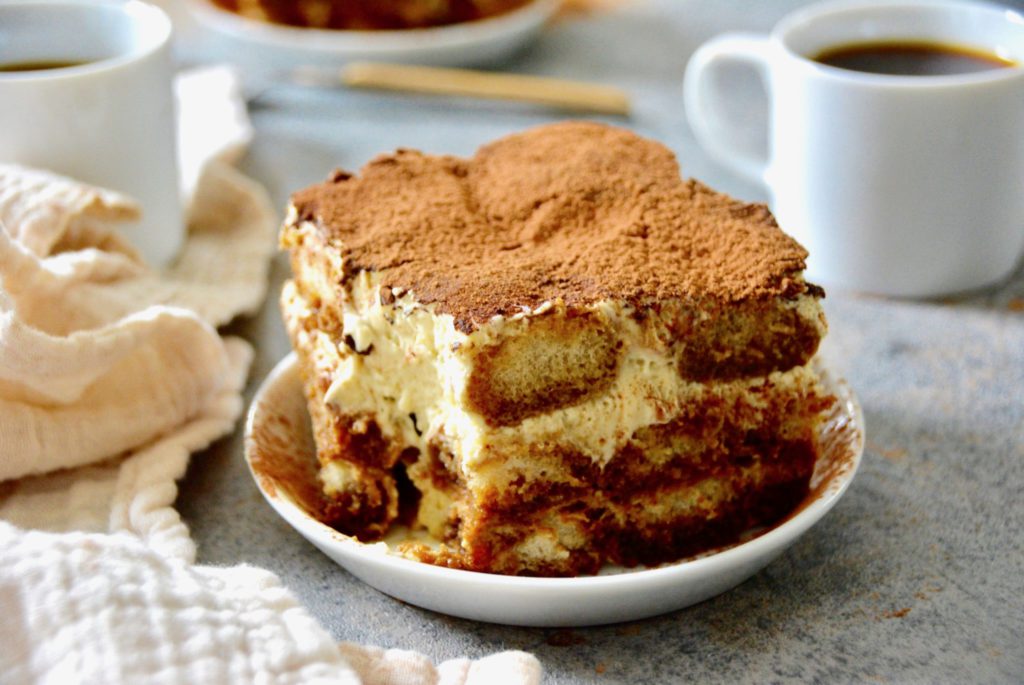 This Italian (but also world) favorite stands out because of the combination of bold flavors of cocoa and espresso, complemented by savory mascarpone cheese, a hint of alcohol, and topped off with layers of super-tasty lady finger biscuits. What more could you want? 
Also, we assume that some of you may be bothered by the fact that you don't have a barista set at home, but there's nothing to worry about. It's enough to buy a few shots of espresso at your local coffee shop to make tiramisu. Or, you can even make your own coffee at home (make it extra strong) as another alternative!
Coffee & Baileys Cake
Is it even possible not to mention a cake made with Bailey's espresso cream? This sweet wonder is incredibly moist, full of Irish cream flavor, and best of all, it's made from ingredients that you probably already have in your pantry.
Coffee & Bailey's are among the favorite flavor combinations for many. Are you part of this team? If you haven't tried a cake like this, it's one you must add to your dessert bucket list.
To be honest, none of our loved ones are avid drinkers, but that doesn't stop us from always having a bottle of Baileys in the fridge. We may rarely pour it into a glass, but we regularly use it as a favorite addition to hot chocolate, coffee, or various baked goods.
Espresso Chocolate Chip Cookies
We've now come to the last of three dessert ideas to make with coffee. And frankly speaking, this is one of our favorites. Many like to consider it an improved — or in modern slang — an upgraded version of the classic chocolate chip cookie. We're talking about the espresso chocolate chip cookie.
This coffee cookie has a similar flavor profile and texture to the standard chocolate chip cookie, but also includes a bit of browned butter and espresso powder to bring the whole concept to a new level that most haven't tried.
We are so glad coffee lovers are here, because only they can understand that chocolate chip cookies, while already perfect as they are, get bigger, bolder, and better tasting with a splash of this mighty drink.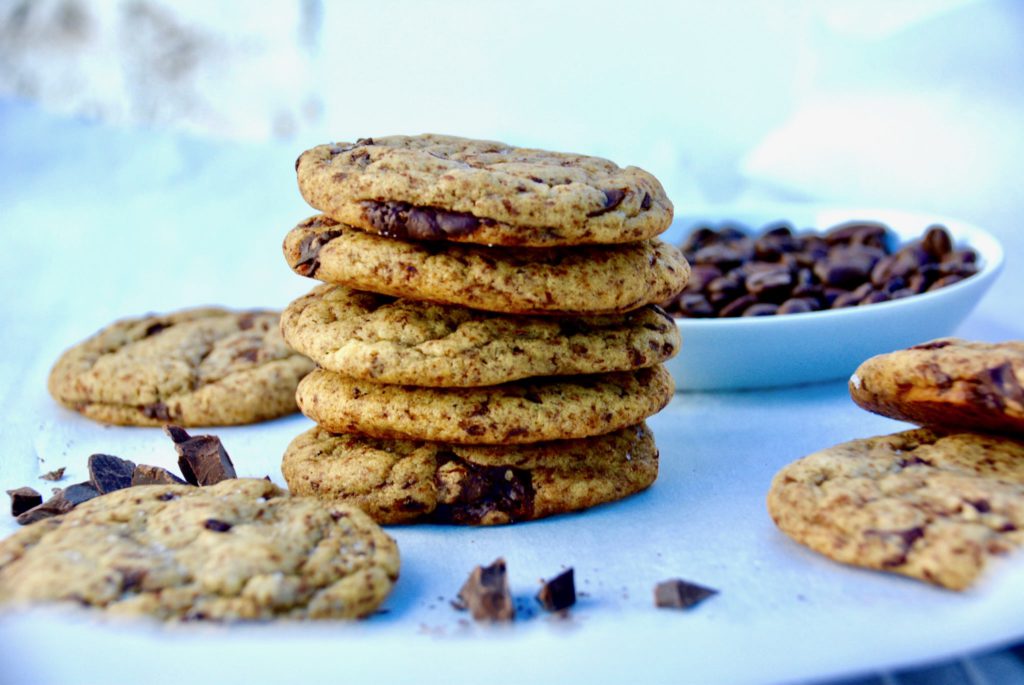 Finally, we would like to remind you that it is advisable to decorate these cookies with a touch of salt. The salt is not only there to enhance the appearance and make them look fancier than any other, but also to deepen the taste.
Wrapping up
Coffee is used all over the world as a pleasant end to a meal, and now you are familiar with the fact that its taste can also be used to make fantastic desserts and sweets. From ice cream and cakes to cookies and puddings, there is almost no dessert that this wonderful drink cannot improve.
These were our top three dessert ideas to make with coffee. Will you try any of them? Let us know in the section below.
Download the Food & Coffee Pairing Chart (PDF)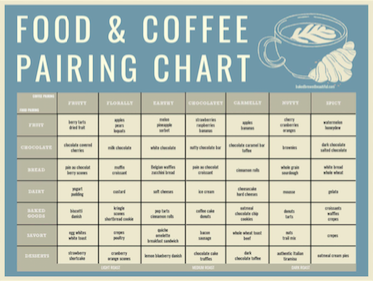 Hang this chart on your fridge to help you find your next food and coffee pairing!
Sign up for the BBB newsletter to download the chart for free!