Learn how to properly pair food and coffee to create perfect pairings to suit your palate. Peruse our list of 50 coffee and food combinations.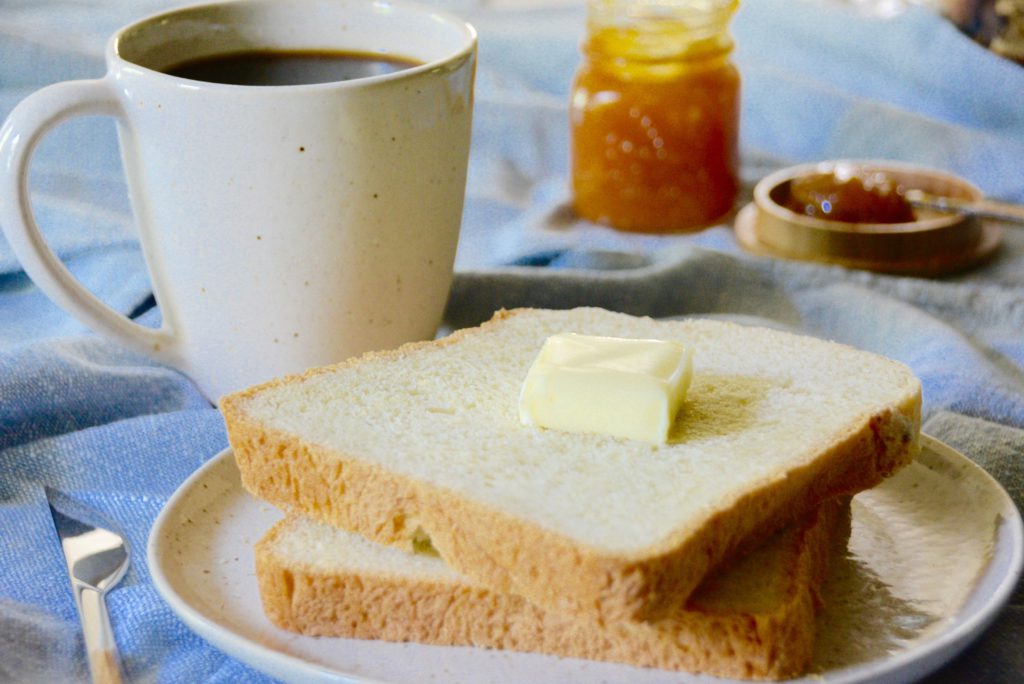 Due to the infinite tasting notes present in coffee, this caffeinated beverage can do wonders to highlight the flavors of your food.
From coffee cake &

donuts

to bananas & apples, coffee can be paired with a variety of foods to provide you with the ultimate flavor combination.
Grab the free

Coffee and Food Pairing Chart & the Coffee and Food Pairing Guide here

to help you remember the best pairings and best pairing practices at home!
Why is it that some foods go inexplicably well with a cup of coffee such as a donut or a biscotto? Just like wine, coffee has an endless list of intricate tasting notes that may go unnoticed by the novice coffee drinker. From berry and tangerine to chocolate and caramel, each specific coffee has its very own flavor profile. And these unique tasting notes have the power to bring out certain flavors in your accompanying food.
To help you get started in the art of coffee and food pairing, you can begin by reading through our 5 best coffee and food pairing practices right below. Feel free to also take a gander through our comprehensive list of over 50 food and coffee pairings (listed by category i.e. breads, dairy, desserts, etc.). This will help give you a sense of the variety of coffee and food pairings available to you.
After that, you can advance to more complex topics such as learning the most popular coffee flavor profiles (by region and/or by roast level). Knowing these flavor profiles can help you pair food and coffee properly. After that, you'll be well on your way to becoming a food and coffee pairing expert.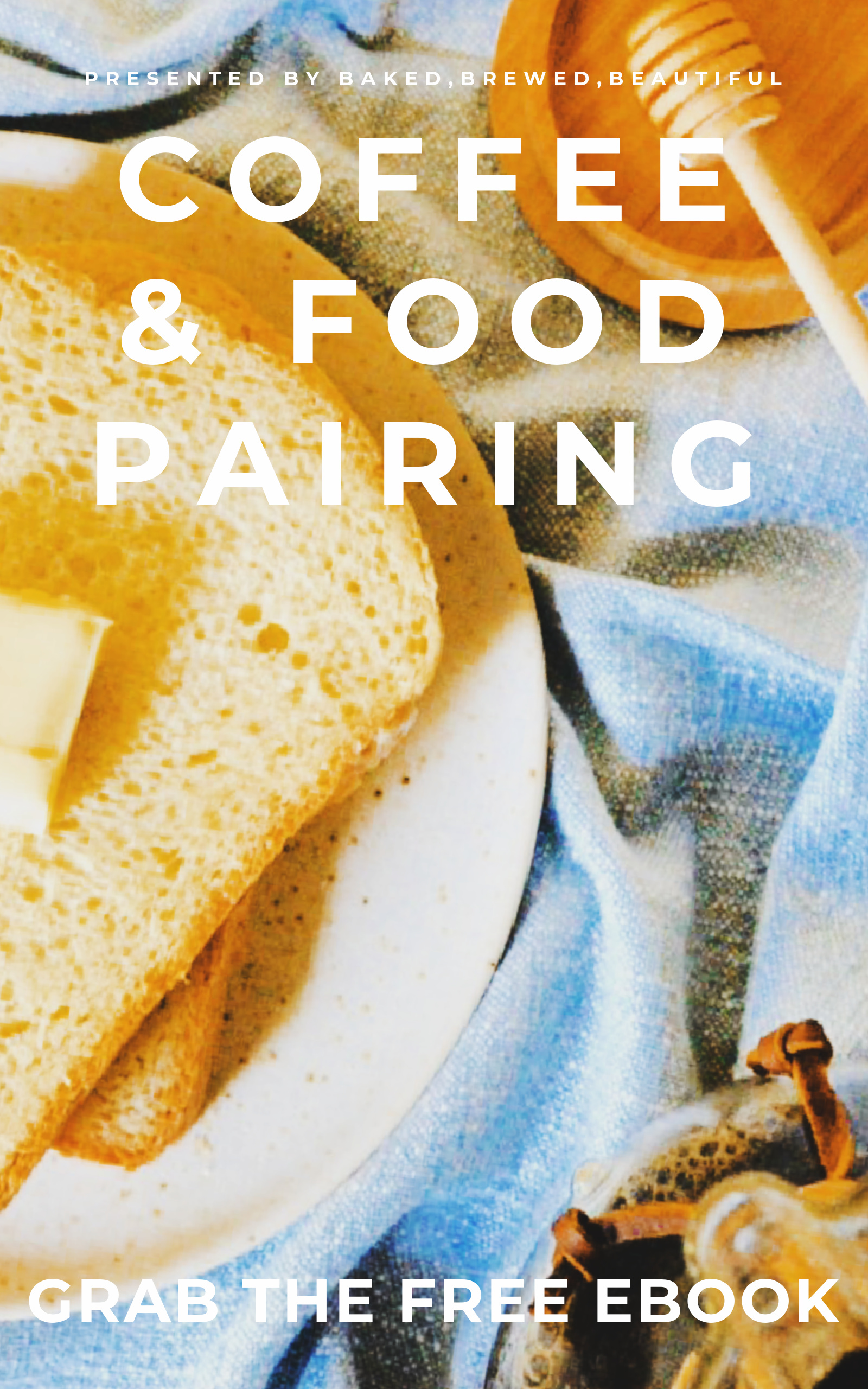 Coffee & Food Pairing Ebook
Don't have time to read the whole post now?
Download the FREE Coffee & Food Pairing Ebook so you can keep all of these food & coffee pairing tips at the ready. Grab it here!
Watch this video to learn

all

5 Coffee & Food Pairing Best Practices in 5 minutes
In this article, you'll find all of the aforementioned and beyond to help you begin pairing food and coffee at home. Watch the above video to learn the 5 best coffee and food pairing practices to begin your own pairing endeavors at home.
There's a lot here, so don't feel like you need to read it all at once. Go through it slowly or download the Coffee and Food Pairing eBook (which contains all of this post's info & resources) and take each section in one-by-one at your own pace.
By the end of it all, you'll be prepared to pair food and coffee properly and find your favorite flavor combinations. Read on to get started.
Quick Links For This Coffee & Food Pairing Post
Chapter 1.
5 Coffee & Food Pairing Best Practices
Before delving too far into the exact foods you should pair with coffee & the exact coffees you should pair with certain foods, here are 5 pairing best practices to help lay down the groundwork.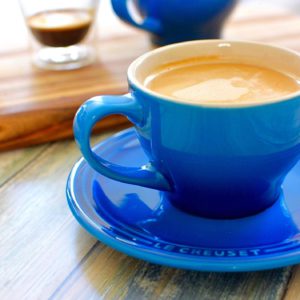 1.

Like goes with like when pairing coffee & food.
As in wine pairing, like goes with like when pairing coffee and food. If your coffee has a more delicate and fruity tasting profile, consider a fruit tart as your pairing or a sorbet. If your coffee is full of nutty & chocolatey tasting notes, go for a chocolatey or nutty pairing such as a brownie or an almond croissant.
2. Balance out the intensities.
Consider the intensity of the coffee and food you're working with when pairing. If your coffee is dark and strong, consider a lighter pairing such as an oatmeal cookie or a vanilla cupcake to balance out the coffee's intensity. On the other hand, if your coffee is light in body & flavor, it's fine to opt for a richer dessert such as a chocolate truffle.
3. Consider temperature to create more depth.
Temperature can add more depth to your pairing experience and allow for some creative freedom. For instance, do you prefer a balance of temperatures such as with a flash-chilled iced coffee and a warmed croissant? Or do you prefer a warmer food and coffee pairing such as a freshly prepared donut served with a hot cup of drip coffee? The choice is yours!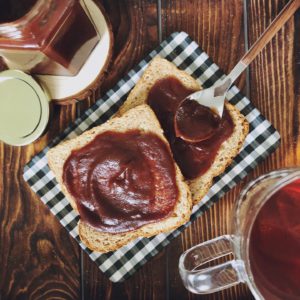 4. Texture goes hand-in-hand with temperature.
The food's texture that you're dealing with can help you determine the ideal serving temperature of your coffee. For instance, if the food is crumbly & firm such as in biscotti, consider a hot coffee for dunking purposes and to soften the bread. If the food pairing is moist & soft in its texture profile, you have a little more freedom to opt for an iced coffee or hot latte. This practice is optional.
5. Complementary flavors make for a more adventurous pairing.
If you want something more interesting when it comes to your coffee and food pairings, opt for complementary flavors. If your coffee boasts of a rather sweet flavor profile, be bold and go for a savory soft cheese or even a salty pairing such as a handful of cashews or even a side of beef!
For a coffee with spicy cinnamon tasting notes, choose a salty complement such as chocolate covered pretzels or something more simple such as vanilla ice cream to create a nice balance.
Chapter 2.
Food and Coffee Pairing Guide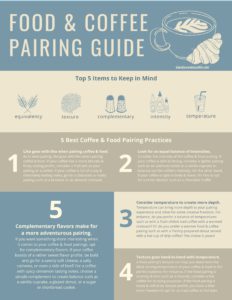 Grab the Food & Coffee Pairing Guide
Keep this Food and Coffee Pairing Guide handy to remind you of all 5 best coffee and food pairing practices!
Chapter 3.
Best Food & Coffee Pairings (Categorically)
If you're more interested in the pairings themselves instead of the pairing etiquette, here's a list of the top 50 foods that pair best with coffee. Take a look at our comprehensive categorical list below.
Fruit Pairings
Though there are a few exceptions (those being citrus-forward fruits), most fruit pairs well with coffee. Due to the fruity tasting notes present in most light roast coffees, this makes for a great alike pairing. Fruits also lend themselves well to complementary pairings. Take a look at some of the best fruit and coffee pairings below.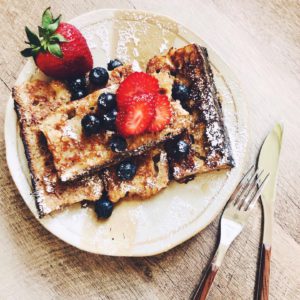 Berries: Blueberries, raspberries, strawberries, and blackberries make excellent companions for your fruity coffees such as those from Kenya and Ethiopia. Berries also pair well with South American coffees following the complementary flavor rule.
Bananas: For anyone who loves that chocolate and banana combo (Arrested Development fans know what we mean), you can recreate this pairing by combining your banana slices with a dark roast coffee boasting of chocolate tasting notes. Consider coffee beans from Brazil or Colombia.
Toast with Jam: Another wonderful yet simple coffee pairing is toast with jam (jelly, apple butter, or any fruit spread for that matter). These fruit-based spreads have the capacity to complement nutty, caramelly, or chocolatey coffees. Toast and jam can also pair well with a fruity coffee such as a coffee from the South Pacific.
Dried Fruit: If you're a fan of dried cranberries, trail mix, and the like, you can enjoy these snacks alongside your favorite fruity coffee to create a fruit forward pairing.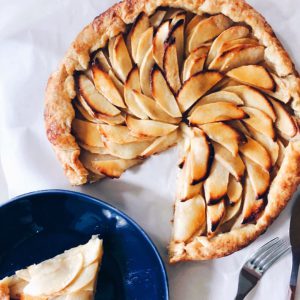 Neutral Fruits (Apple / Pear / Loquat): If you desire to taste only the flavor profile of your coffee, neutral fruits, such as apples and pears, are excellent palate cleansers. Enjoy these fruits alongside a light roast coffee that's bursting with floral tasting notes.
Juicy Fruits (Orange / Watermelon / Melon / Pineapple): Pair juicy fruits with herbal and earthy coffees such as those coffees hailing from Asia. This will help to create an adventurous complementary pairing.
Sorbet: While not exactly a fruit, sorbet is bursting with fruity flavors. Sorbets pair well with bright coffees such as African coffees or even some Central American coffees such as those from Mexico, Guatemala and Nicaragua.
Chocolate Pairings
It seems pretty natural that chocolate would pair well with coffee considering that many coffee beans boast of chocolatey tasting notes. Most chocolate and coffee pairings won't steer you wrong, but here are a few favorites.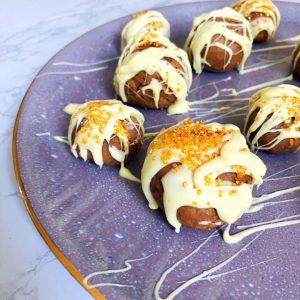 Dark Chocolate: With a more bitter profile, dark chocolate does best with a slightly sweeter coffee such as a Guatemalan coffee or a Colombian coffee.
White Chocolate: White chocolate tends towards a sweeter profile lending itself well to an earthy coffee such as an Indonesian coffee.
Milk Chocolate: In general, milk chocolate fits somewhere in between dark and white chocolate, and therefore, pairs beautifully with just about any coffee out there. It's very versatile.
Chocolate Truffles: For something as rich as chocolate truffles, it's best to try to create a balance when pairing with coffee. Opt for a coffee that's less intense in flavor such as a medium roast from Central America.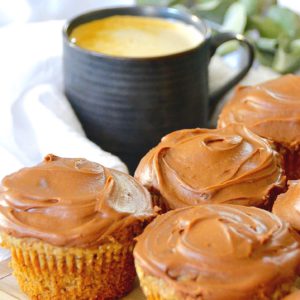 Chocolate Cake/Cupcakes: The ideal coffee pairing for chocolate cupcakes or chocolate cake is espresso. An espresso is basically a very concentrated cup of coffee and is usually acidic (in a good way) and boasts of chocolatey undertones. This strong taste helps to cut down on the sweetness of the chocolate cake (that's a good thing!).
Brownies: Depending on how you like your brownies, they can go with a range of coffee types. For brownies hot out of the oven, you can pair them with a nice cold brew or flash-chilled iced coffee to create a temperature contrast. Brownies also pair well with fruity coffees to create more of a contrast of flavors.
Bread Pairings
Bread is not only versatile in shape and size, but also in texture and taste. This makes for some incredible combinations with coffee. Peruse through some of our favorite coffee and bread pairings.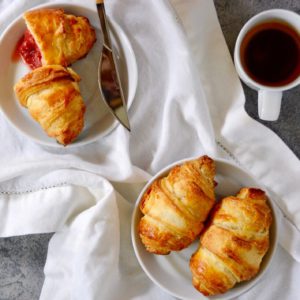 Croissants: Croissants are buttery, flaky breakfast pastries that are often served at breakfast time. They're best enjoyed freshly baked, and they are the perfect coffee companion.
The coffee intensifies and complements the buttery sweetness of the croissant, making for a perfect match. Just about any coffee will do.
Pain Au Chocolat: This French croissant variation pairs especially with a fruity coffee. It creates a nice contrast and the buttery layers of the pain au chocolate are well-complemented with the bright flavors of the coffee. Think Burundi or Ethiopia coffee.
Zucchini Bread / Banana Bread / Pumpkin Bread: Sweet bread like banana and zucchini bread pair well with coffees from Indonesia with a more earthy flavor profile. This creates a nice balance.
White, Whole Grain, and Whole Wheat Bread: Due to the neutrality of these types of bread, you can pair them accordingly with spicier coffees such as those hailing from Thailand or India.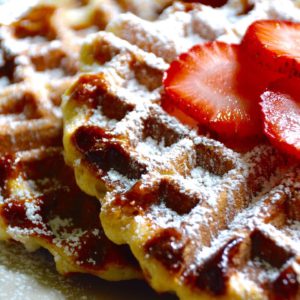 Belgian Waffles: Belgian waffles are often larger than American waffles, sport a rectangular shape, and are lighter in texture. They pair well with a less intense coffee to balance out the sweetness of the waffle.
Less intense coffees tend to be medium roasts such as those from Latin America. See our Liege Belgian Waffle Recipe here.
Sourdough Bread: Sourdough bread is rather bitter in flavor, which pairs well with a sweeter and more mild coffee such as beans from Brazil, Ecuador, or Costa Rica.
DAIRY PAIRINGS
Many folks enjoy using milk (dairy / non-dairy) or creamer in their coffee. But despite knowing this, it's probably a surprise to discover that coffee can also be paired with a number of dairy products! From ice cream and custard to yogurt and cheese, here are a few great dairy and coffee pairings.
Yogurt: Pair yogurt with a medium roast coffee to add a hint of sweetness to your breakfast. Think Latin American coffee here.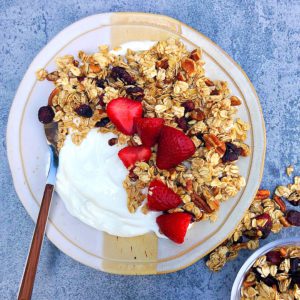 Gelato: Due to its ultra-sweet make up, gelato pairs best with a bitter, dark roast coffee. This helps to create a nice balance between the sugary gelato and the bitter coffee.
Custard: Custard is primarily made of egg yolks and sugar. It's a fairly heavy, yet simple, dessert that would pair best with a flavorful light roast coffee. Opt for a fruity or floral coffee from Tanzania or Burundi.
Pudding: Another simple dessert that's slightly lighter than custard is pudding. It pairs especially well with more interesting coffees such as those from Hawaii or Africa.
Ice Cream: There are a few ways you can go when eating ice cream and sipping coffee. Think complementary flavors and like flavors. Pair a fruity coffee with a chocolate or nutty ice cream. Or if you like fruit-flavored ice cream, pair it with a chocolatey coffee. The only limitation would be iced coffee drinks (to avoid brain freeze). See our Affogato Recipe here.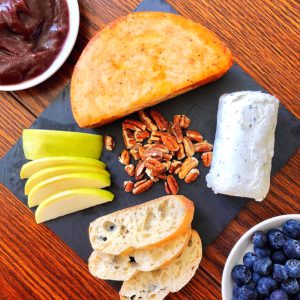 Soft Cheeses: Soft cheeses tend to come off a bit more subtle than hard cheeses in terms of flavor. This makes them excellent pairings for more exotic coffees such as those with herbal and floral tasting notes. Think African and Asian coffees.
Hard Cheeses: Hard cheeses tend to have full and intense flavors. Therefore, it's important to choose wisely when pairing with coffee in order to find one that's not flavor intense. Go for a medium roast coffee such as one from Cuba or Costa Rica. Avoid pairing coffee with spicy cheeses.
Cheesecake: Like ice cream, cheesecake is fairly versatile therefore allowing you more creative pairing freedom than some of the other dairy items here. Berry cheesecakes can be paired with fruity coffees to create like flavors or more nutty coffees to create a contrast. See ice cream for more pairing ideas.
Baked Good Pairings
Naturally, baked goods are some of the best coffee pairings around. Go to any coffee shop and you'll find a delectable food pairing selection composed mostly of muffins, scones, and cookies. Read on for some of our favorite baked good pairings.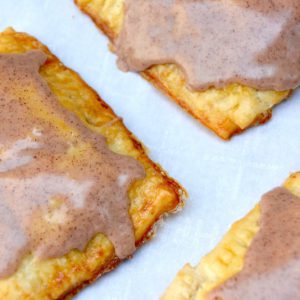 Pop Tarts: For the perfect coffee companion, consider a medium roast coffee. Most pop tarts have a lovely rich, buttery flavor, which would be nicely complemented with a fuller body coffee that has a low acidity. Think Sumatran coffee. See our Homemade Brown Sugar Cinnamon Pop Tarts Recipe here.
Coffee Cake: Being that the word "coffee" is in its name, it bodes well that coffee cake is one of the best foods to go along with coffee. Coffee cake boasts of cinnamon, sweet, and buttery flavors. You can pair coffee cake with a medium roast coffee Guatemala, Honduras & Panama are a few suggestions. This will help to bring out the natural sweetness of the cinnamon, which is the predominant flavor of coffee cake.
Donuts: There's a reason coffee and donuts go hand in hand. This long time coupling has been a US-favorite for a long time due to the unique flavor combination. The bitterness of the coffee unbelievably complements the sweetness of the donut. Pair donuts with dark roasts such as coffee from Brazil or a dark roast blend.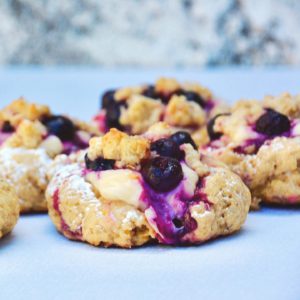 Danishes: Berry danishes, in particular, pair best with light roast coffee. Recommended coffee pairings include coffee beans from Jamaica, Kenya, Ethiopia, or Uganda. Try to find a coffee with tasting notes of blueberries, raspberries or strawberries. Light roast coffee beans will be your best bet.
Biscotti: For the ultimate coffee pairing experience, consider a medium coffee boasting of more spicy flavors. This would likely be an Asian coffee with natural spices present.
Kringle: Kringle is an oval-shaped Danish baked good that's made of layers of Danish pastry and filled with fruits, cheese, and nutty pastes. It pairs beautifully with most coffees, but if you want something extra special try it with a Geisha coffee. This type of coffee is almost like tea and the flavors are complex and boasts of sweet floral notes. This mild quality works to delicately compliment the buttery and fruity flavors of this pastry, yet they won't entirely overtake the wonderful flavors of the Kringle.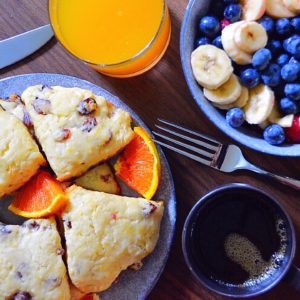 Scones: Scones tend to be less sweet than many of the pairings in this section, and therefore would go best with a brighter and more exotic coffee. We recommend Ethiopian coffee, which is often praised for its incredible fruitiness. Often, Ethiopian coffee has flavors of strawberry, blueberry, and even floral tasting notes. These bright flavors create a complex and naturally sweet profile, which ultimately complements the delicate flavors of our cranberry scones.
Cookies: Look for coffees with nutty, chocolatey, or fruity tasting notes (depending on the kind of cookie you've chosen). Nutty Coffees Recommendations: El Salvador, Ethiopian, or Brazil. Chocolate Coffee Recs.: Papua New Guinea or Nicaragua. Fruit Coffee Recs.: Costa Rica or Tanzania. See our Dark Chocolate Espresso Chunk Cookie Recipe.
Cinnamon Rolls: To get the best food and coffee combination, try cinnamon buns with a coffee of South American origin. These types of coffees are typically more nutty in flavor, and lean towards a medium or medium-dark roast. This more bitter flavor helps to reduce the sweetness of the cinnamon rolls ever so slightly.
Savory Pairings
Most of the pairings on this list have been sweet, but there are a few savory foods that also pair well with coffee. While mostly breakfast foods, you'll surely find a pairing or two you'll want to try this week at home in the morning.
Egg Whites: The neutrality of egg whites allow for a more adventurous coffee pairing. You can opt for a bright and acidic coffee from Uganda, the Congo, or Madagascar.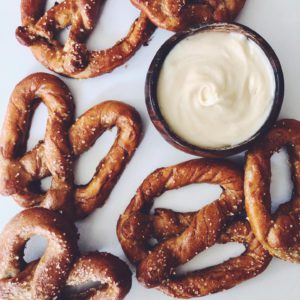 Soft Pretzels: When the saltiness of a soft pretzel is paired against a velvety sweet & chocolatey nitro cold brew coffee, you're in for a treat. The naturally sweet undertones of nitro brew with that well-known smooth texture brings out a tinge of sweetness from the pretzels.
Pork: Pair your bacon and sausage with a medium roast or medium-light coffee boasting of earthy tones such as a Mocha Java coffee or a Papua New Guinea coffee.
Nuts: Like goes with like couldn't be more true here. Enjoy your trail mix, salted cashews, or unsalted almonds with a nut-forward coffee such as one from Brazil or Nicaragua.
Crepes: Enjoyed savory or sweet, crepes are incredibly versatile. They go great with many different types of coffee depending on their base. Fruity crepes pair well with fruit-forward coffees and medium roasts with caramel and nutty flavors. Savory crepes pair best with spicy and earthy coffees.
Quiche / Omelette / Breakfast Sandwich: Each of these breakfast options tend to have a variety of flavors in each bite. Choose an earthy or herbal coffee to balance out the flavor intensity.
Dessert Pairings
While we already dove into baked goods above, there are some desserts that we thought deserved their own category for their extra decadence. These are desserts you wouldn't necessarily find at your local cafe, and require a bit more work in the kitchen, but are totally worth it in the end. Recipes included for each dessert and coffee pairing.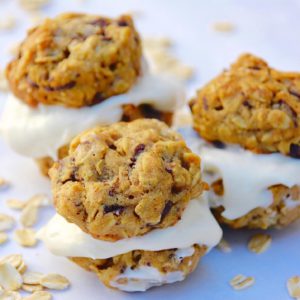 Oatmeal Cream Pies: Pair oatmeal cream pies with a nutty, medium roast coffee. Since these cookies contain oats, they naturally pair well with nuts (you can even throw some nuts into the recipe if you'd like!). Therefore, this recipe would fare well with a nutty cup of java. Blends are actually great for this pairing. Find the Mini Oatmeal Chocolate Chip Cream Pies Recipe here.
Strawberry Shortcake: Try a bright, citrus-forward coffee to pair with a strawberry shortcake recipe to complement the dessert's fruit flavors. Ethiopia is a great pick for this flavor makeup. Find the Strawberry Shortcake Recipe here.
Cranberry Mimosa Orange Scones: Cranberry Mimosa Orange Scones are a delicate mix of dried cranberries, fresh squeezed orange juice, and a hint of Prosecco to give it another layer of flavor. This combines to create a decadent breakfast pastry that best lends itself to a light roast coffee boasting of fruity tasting notes. This recipe will be coming soon – stay tuned!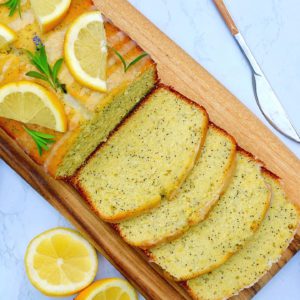 Lemon Poppyseed Lavender Glaze Loaf Cake: To bring the lavender flavors forward from this lemon poppy seed loaf, look for a light roast coffee with floral tasting notes and a delicate, tea-like body. This will help to highlight those subtle, earthy flavors of the lavender that are hiding behind the lemon. Find the Lemon Poppyseed Lavender Glaze Loaf Cake Recipe here.
Lemon Blueberry Danish: This Danish recipe consists of citrus, berry, and sweet flavors. For any berry-forward recipe such as blueberries, raspberries or strawberries, light roast coffee is best. Coffee from Jamaica, Kenya, Ethiopia, or Uganda are great picks. Find the Quick & Easy Lemon Blueberry Danish Recipe here.
Chocolate Cake Truffles: The ideal coffee pairing for chocolate cake truffles is a light roast coffee boasting of a lighter body, medium acidity, and medium sweetness. This choice helps balance out the deep flavors of the truffles. The lighter body also helps to lighten the overall load of this pairing. See the Chocolate Cake Truffles Recipe here.
Authentic Italian Tiramisu: Because tiramisu is so rich and decadent, opt for a light roast coffee with a tea-like body.
This delicate kind of texture and flavor will contrast the richness of the cream and cocoa of the tiramisu. Find the recipe here. See the Authentic Italian Tiramisu Recipe here.
Dark Chocolate Toffee: For a toffee-coffee pairing, a light roast coffee is usually best as it tends to offer more delicate flavors and almost resembles a tea if brewed properly. The light body and bright flavors will work to balance out the deep, sweet flavors of the rich toffee. See the Dark Chocolate Nut-Free Toffee Recipe here.
Chapter 4.
Download the Food & Coffee Pairing Chart (PDF)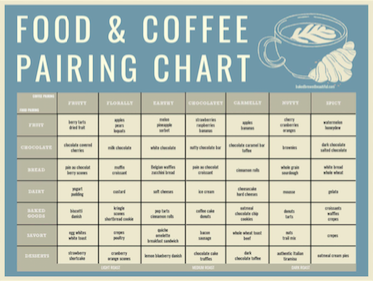 Hang this chart on your fridge to help you find your next food and coffee pairing!
Sign up for the BBB newsletter to download the chart for free!
Chapter 5.
Coffee Flavor Profiles By Origin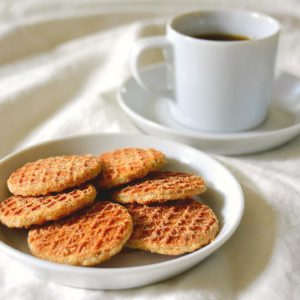 Coffee varies greatly by flavor depending on where it was originally grown. This is due to the growing conditions (i.e. climate, soil, etc.) of that particular region, therefore, producing a certain flavor profile unique to that area. There are over 50 coffee-producing countries, so we can't go into the details of each in this single post. But we can give you a general overview of the most popular coffee-producing regions along with their flavor profiles.
In knowing where your coffee beans come from, it can help you determine their signature flavor profiles. This, in turn, can help you pick out the best food companion following the 5 Food & Coffee Pairing Best Practices.
Note: The below section refers to coffee of single-origin. This simply means that the coffee comes from only one place as opposed to blends which come from geographic regions. Coffee blends have their own unique flavor profile that cannot be encompassed by the below descriptors.
Africa
Coffee produced from countries in this region is commonly described as fruity, floral-like, and is usually high in acidity. Speciality coffee lovers typically flock to African beans for the complexity of flavors and clean flavor profiles. Ethiopia coffee is often a favorite in the specialty coffee realm for its tea-like body and bright and fruity tasting notes. Other notable Africa origins include Kenya, Rwanda, Tanzania, and Burundi.
Central America
Heading over to Central America, you'll discover coffee that is nutty, caramel-like, and well-balanced. This coffee is usually light or medium in body with mild flavor and a good balance of acidity. Most US citizens are familiar with coffee from this region due to its proximity. Notable origins from this region include Guatemala, Costa Rica, Honduras, and Nicaragua.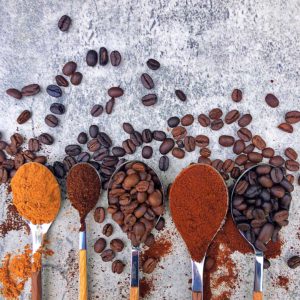 South America
If you go further south, you'll end up in one of the largest coffee-producing continents in the world — South America. Coffee from this region is characterized by sweetness and balance. Entry level coffee drinkers tend to gravitate towards South American coffee due to its well-blended flavors and lack of intensity. Brazil is actually the world's largest coffee producer yielding nutty, chocolatey, and buttery coffee. Other notable origins from South America include Colombia, Ecuador, and Peru.
Asia
Last but not least, you have the grand continent of Asia offering a wealth of diversity in its coffee offerings. Coffee from this region is most known for its earthy and herbal flavor profile and low acidic properties. It's common to find spice farms next door to coffee farms in these regions, often producing a faint addition of spice to the coffee. Vietnam is quite different in that this country produces primarily Robusta coffee as opposed to Arabica (produced in the above regions), and is known for being more caffeinated, bitter and less aromatic. Other notable origins in this region include Myanmar, Papua New Guinea, India, and Indonesia.
Chapter 6.
Coffee Flavor Profiles by Roast
If you're not sure where your coffee is from or you don't want to get into the details of single-origin coffee (as mentioned above), you can also look at the roast level to help you in your coffee and food pairing endeavors. In the realm of specialty coffee, different beans are better suited for specific roast levels: light, medium, or dark.
Below you'll find the general flavor profiles for the most popular roasts and examples of regions that are best suited to each roast level.
Light Roast
In terms of flavor profiles, light roast coffee tends to be quite vibrant and naturally sweet. It tends to offer more delicate, fruity and floral flavors. This type of coffee is often described as having high levels of acidity and produces a drier aftertaste. It also highlights the characteristics of the coffee's origin more so than other roasts. Typically African beans such as those from Kenya, Ethiopia, and Burundi but suit a light roast.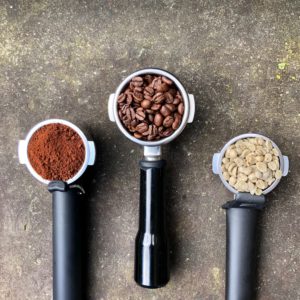 Medium Roast
Medium roast coffee generally maintains many of the flavors of the coffee's origin, but also has caramel and chocolate undertones like a dark roast. A medium roast coffee tends to be sweeter and less intense than a light roast, and has a more balanced and well-rounded overall flavor. For someone just getting familiar with specialty coffee, a medium roast is a great place to start. And as your palate develops, you may be more adventurous and willing to try those light roasts later on. Coffee from Central America, South America, and some Asian countries lend themselves towards a medium roast level.
Dark Roast
Dark roast beans have chocolatey, nutty, and caramel undertones. These types of roasts are meant to produce a more uniform roast in the coffee beans. They don't have many of the characteristics of their origin, and tend to offer more straight-forward flavors (less complex than lighter roasts). This isn't to say dark roast coffee isn't good. In fact, some beans lend themselves to a darker roast in order to highlight more chocolatey or nutty tasting notes. Typically, coffee from Asia — noted for its earthy and bitter coffee — suits a darker roast.
For a full fleshed out article on the bean and caffeine characteristics of roasts, see this article on Dark Roast Vs Light Roast.
Chapter 7.
Common Pairing Questions
What foods pair well with coffee?

There are dozens of wonderful foods that pair well with coffee (See above post), but here are 3 of the most popular pairings:

Donuts – This long time coupling has been a US-favorite for a long time due to the unique flavor combination. The bitterness of the coffee unbelievably complements the sweetness of the donut.
Croissants – Croissants are buttery, flaky breakfast pastries that are often served at breakfast time. The coffee intensifies and

complements the buttery sweetness

of the croissant, making for a perfect match.
Cookies – This flavor combination works best if you dip the cookie into the coffee. Though there is some debate about whether or not it's proper for table etiquette, it hasn't stopped many folks around the world from doing so.
Is it better to have coffee with food?

In short, yes it's better to have coffee with food.

With that being said, specialty coffee can stand alone (if brewed properly). That's the great thing about craft coffee…you can fully taste and experience the original flavors of the coffee bean, and that's something that many specialty coffee lovers most enjoy and therefore, tend to drink coffee on its own.

However, many specialty coffee shops have made it their mission to serve high-quality food with their craft coffee to create an enhanced dining experience. And you can do the same by pairing your coffee with the right type of food by following the best pairing practices outlined at the top of this post.
What should I eat while drinking coffee?

This question is somewhat similar to the one above, but it's worth answering if you're looking to eat something while sipping on your coffee. Go for a donut, croissant, or a piece of coffee cake. These are all excellent coffee companions.
What should you not eat with coffee?

Generally, it's best to avoid anything that's too spicy such as peppers, hot sauce, and the like. The heat of these types of foods overwhelms the palate and therefore, drinking coffee tends to only make the problem worse. It's also wise to avoid anything that's overly bitter or citrusy such as limes, grapefruits, and lemons. The bitterness here again overwhelms the taste buds and is only worsened by the addition of something as acidic as coffee.

Note: This isn't an easy answer. Everyone has their own taste preferences so it's hard to say you shouldn't eat certain foods with coffee if there's something on this list that you like.
What flavors pair well with coffee?

The flavors that pair particularly well with coffee include those that are most often naturally present in coffee. Some of the best flavors that pair well with coffee include chocolate, caramel, berry-like flavors, nutty flavors, honey, florals, and cinnamon.
Pairings By Time of Day
What should I eat before coffee in the morning?

There's no rule that you need to eat anything before having your coffee in the morning. If you do need to eat something for health reasons (or you're just hungry!) before having your coffee, go for something that's fairly neutral in taste to prepare & cleanse your palate for your morning coffee. This could include unsweetened applesauce, plain oatmeal, toast/crackers, or plain yogurt. Eating something that's more neutral will allow you to fully taste the flavors of your specialty coffee, as it's meant to be enjoyed.
What can I serve with morning coffee?

When it comes to finding something good to serve with your coffee for breakfast, most items you would find at a bakery can't steer you wrong. From donuts, croissants, and muffins to coffee cake and tiramisu, these are all excellent food and coffee combinations for your morning coffee.
What to serve with coffee in the afternoon?

When it comes to serving coffee in the afternoon, best food pairing practices indicate something lighter such as a scone, biscotto, or a shortbread cookie. These smaller, less flavor intense treats are the perfect afternoon pick-me-up.
Fruit Pairing Questions
What fruit mixes well with coffee?

Choose fruits that are naturally present in coffee. Common coffee fruity tasting notes include blueberries, tangerines, peaches, raspberries, and melon.
Is it ok to eat fruit with coffee?

Fruit pairs particularly well with African coffees due to the naturally occurring fruity flavor profiles that exist in these coffees. Kenyan and Ethiopian coffees are well-known for their bright and tangy flavors.
Can I eat a banana and drink coffee?

Bananas can certainly be paired with coffee when you're talking about food and coffee combinations. In particular, bananas pair especially well with more chocolatey coffees such as beans from Guatemala, Colombia, El Salvador, and Panama.
Do coffee and orange go together? 

Though citrus isn't always the best choice for coffee pairings, oranges and tangerines are slightly sweeter than more bitter fruits like grapefruits and lemons. Therefore, oranges and coffee can certainly complement each other. Opt for an alike coffee pairing such as a Kenyan coffee. Or you can be more adventurous and seek out a complementary flavor experience by going for a nutty coffee such as beans from Brazil, India, and Colombia.
Can I drink coffee with an apple?

Apples are a more neutral food type (depending on the apple of course) that would fare well as a palate cleanser, if you're looking for something to eat before or after your coffee drinking experience. Apples are also fine to serve alongside your coffee as they won't hinder the flavor much while sipping your morning coffee.
Chapter 8.
Latest Food and Coffee Pairing-Related Content
New content gets published through the week on the blog. Follow the Baked, Brewed, Beautiful blog to get the latest guides, reviews, and tips to continually grow your coffee and food pairing knowledge.
When coffee is paired properly, you're able to taste enhanced flavors of both the coffee and the food. So to help you gain this experience, here are 3 of the best coffee and food pairings.
Think about how good a donut tastes with a side of coffee — the bitterness of the coffee perfectly cuts the sweetness of the donut. Like wine and cheese pairings, there are certain food and coffee combinations that complement each other best. And when coffee is paired properly, you will be able to taste the enhanced flavors of both the coffee and food at hand.
Creating good coffee and food pairings begins with making good coffee at home. And to do that you need high-quality specialty coffee beans. Choose from the top 10 best tasting coffee beans of 2021.
Chapter 9.
Most Popular Food Pairing Recipes
Make your own coffee companions by following these easy baked goods recipes. Each pairs oh-so perfectly with coffee, and all of them are totally "dunkable."
This is the best, moist coffee cake recipe requiring very little work! Make this cake for breakfast or for dessert in just 30 minutes. If you're in a hurry and in need of a quick breakfast dish, try your hand at this moist and easy coffee cake with cinnamon streusel. What's great about this cake is that it's a one-pan dish, so all of the layers go in the same 8 x 8-inch pan.
Meaning "pick me up" in Italian, tiramisu is a blend of espresso, mascarpone, ladyfingers, and cocoa. This decadent dessert is rich and stunning in design, and one that is often saved for special occasions in Italian households. But after making this particular classic Italian tiramisu recipe, you may want to consider adding it to your regular dessert list.
These cinnamon rolls are not only soft & fluffy, but filled with freshly ground cinnamon & topped with a cream cheese frosting. They're filled with an amazing cinnamon sugar mixture and topped with my all-time favorite cream cheese frosting. You won't be able to say no to seconds and maybe even thirds!
Download the Food & Coffee Pairing Chart (PDF)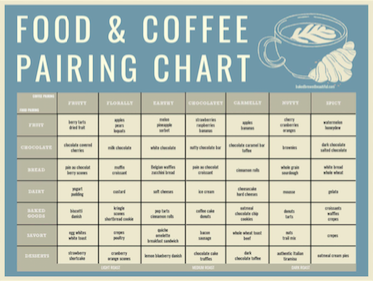 Hang this chart on your fridge to help you find your next food and coffee pairing!
Sign up for the BBB newsletter to download the chart for free!