In no time, you'll be throwing out all kinds of coffee jargon.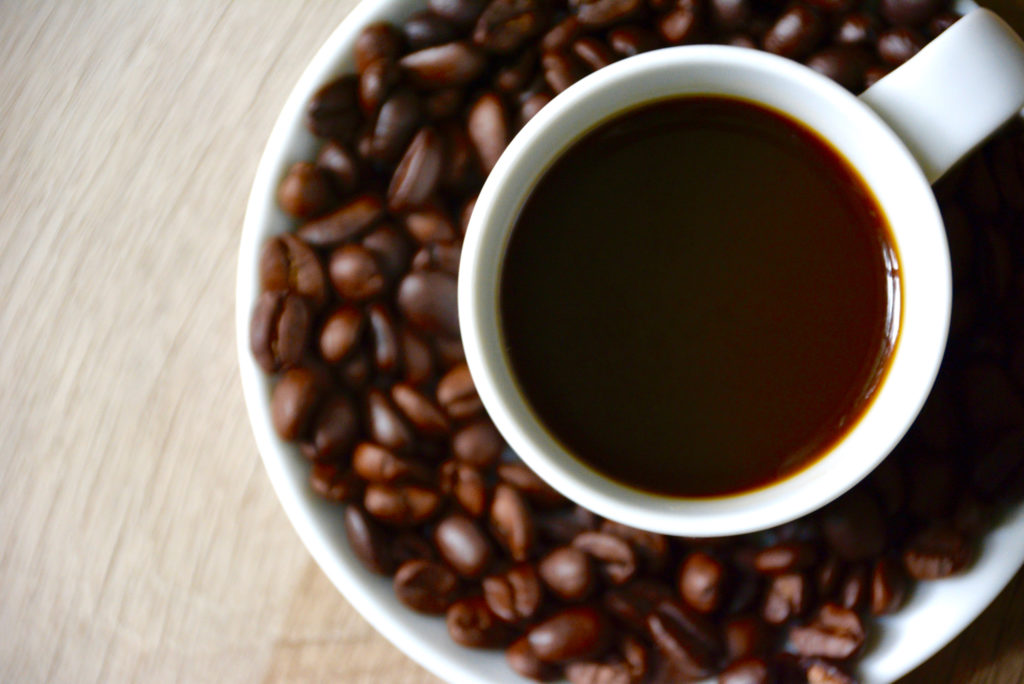 Coffee speak can feel overwhelming whether you're new to coffee or just entering the world of third wave coffee.
With so many coffee drinks out there, it's good to know the differences to get your coffee order right the next time you're out.
Here's a list of the most common coffee words and definitions.
Have you ever been totally overwhelmed by coffee speak? It seems like there's a world of coffee jargon that everyone seems (or pretends) to know, use, and understand.
To help you out (and to save you from becoming a total poser), here's a list of the most frequently used coffee terms with their definitions.
BREWING
Aeropress
A piston-style brewing device that forces coffee through a thin paper filter directly into a cup, producing a quick and clean tasting coffee.
Chemex
An hourglass-shaped filter coffee brewer invented by Peter Schlumbohm. An example of the pour over method.
Download My FREE 5-Step Chemex Brewing Guide
Subscribe to my newsletter (free!) & get instant access to my FREE resource library to grab my 5-Step Chemex Brewing Guide. Sign up below!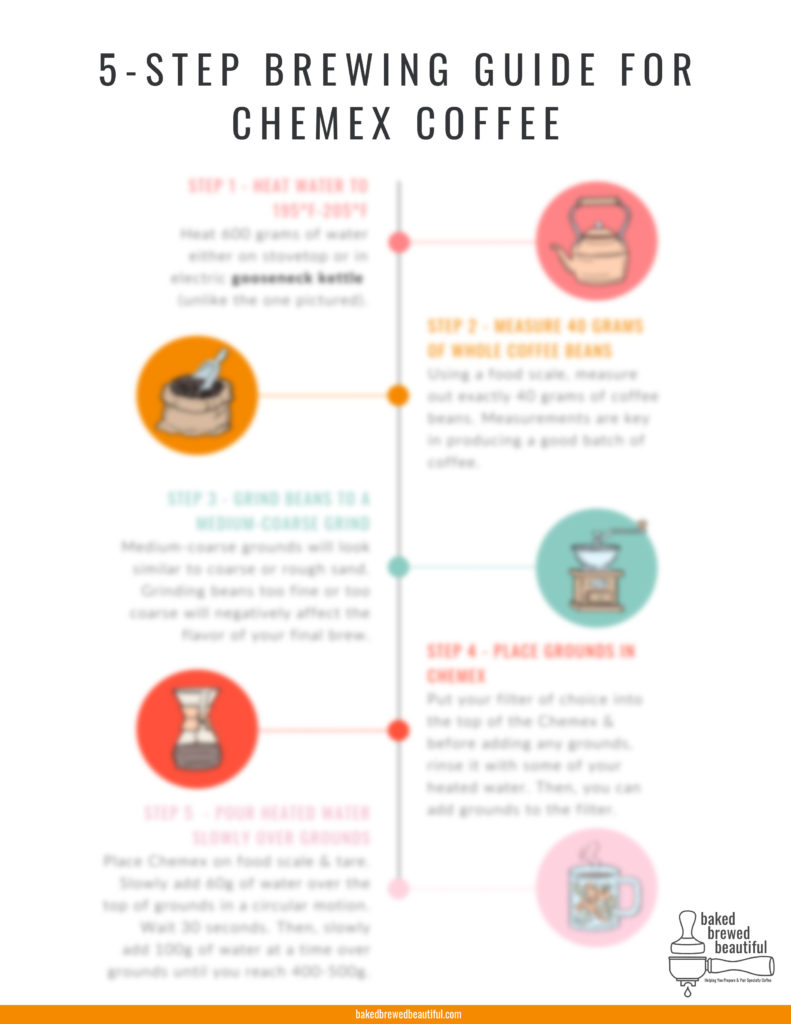 Drip method
Coffee made by exposing beans to hot water without using excessive pressure. Typically done with a percolator, an in-home coffee maker, a press pot, or a filter.
Filter coffee
Drip coffee that is made with a cone (made of ceramic, glass, or plastic) lined with a paper filter. Professionals often prefer this method, as it provides the most control over all variables.
French press
Coffee-making method that involves adding ground beans and hot water to an instrument containing a plunger and a filter. The grounds are then pushed to the base of the vessel.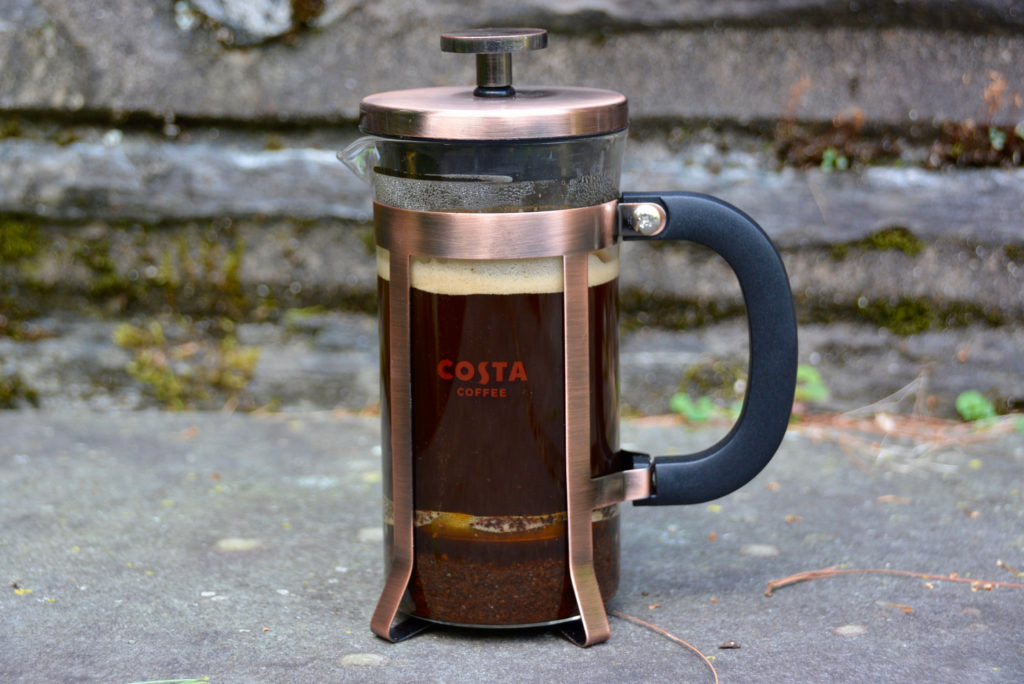 Pour over method
See filter coffee definition.
Siphon
A brewing device that uses vacuum pressure and a series of vessels, known for producing fruity and bright coffee.
DRINKS
Ice cream topped with a shot of espresso.
Americano
Shot of espresso mixed with hot water, producing a very strong coffee (also what you'll receive when you ask for a coffee in Europe).
Café au lait
Brewed coffee mixed with a foamy layer of steamed milk.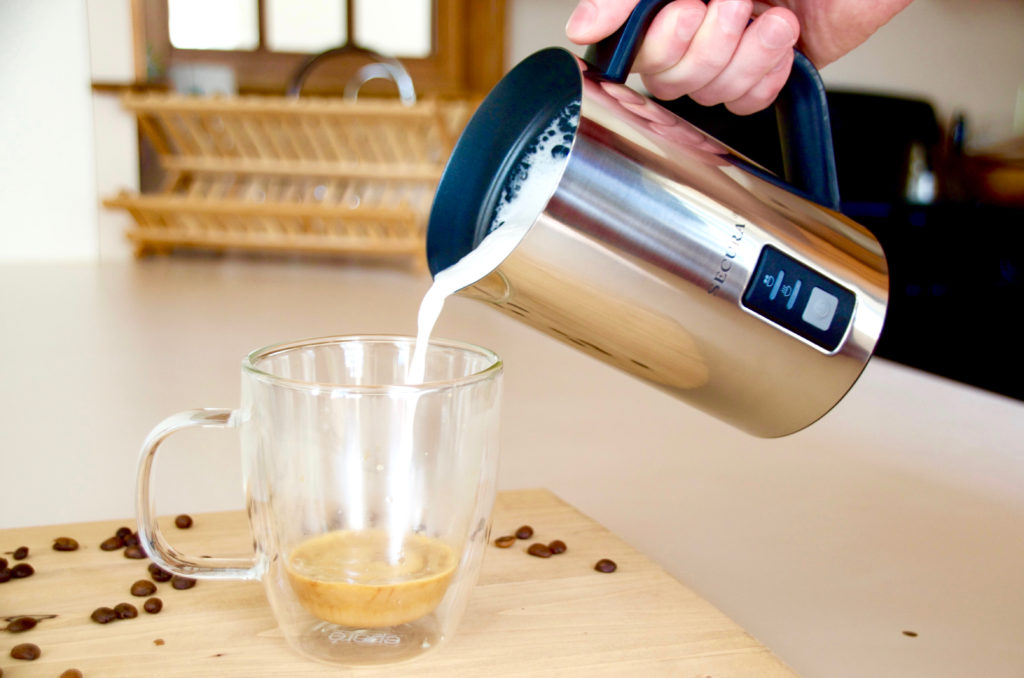 Cappuccino
A popular coffee drink made by combining a single or double shot of espresso with a layer of frothy, foamy hot milk. Typically 5 to 7 ounces.
Cold brew
Coffee made by slow-steeping water and coffee grounds for hours, resulting in a dark and intense cup of coffee. Served over ice.
Cortado
Espresso topped off with steamed milk. Typically, 4 ounces.
Crema
Light brown layer of emulsified oils that lives on top of an espresso shot.
Download My FREE Home-Brewing Guide
Join my newsletter (free!) to receive my free home-brewing guide. PLUS, you'll get instant access to ALL freebies in my resource library including bonus coffee and pairing recipes, coffee hacks & more brew guides!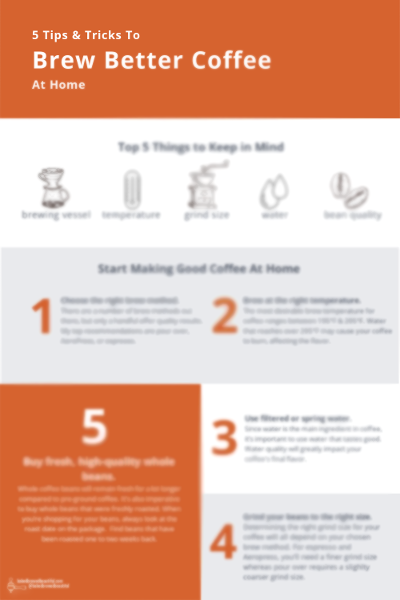 Espresso
Concentrated coffee produced when hot water is forced through very fine coffee grounds. Typically, 2 ounces or less.
Flat white
A foamy, milky coffee beverage similar to a cappuccino, but with even MORE milk.
Latte
A popular coffee order made by combining espresso and steamed, foamy milk. Typically 8 ounces or more.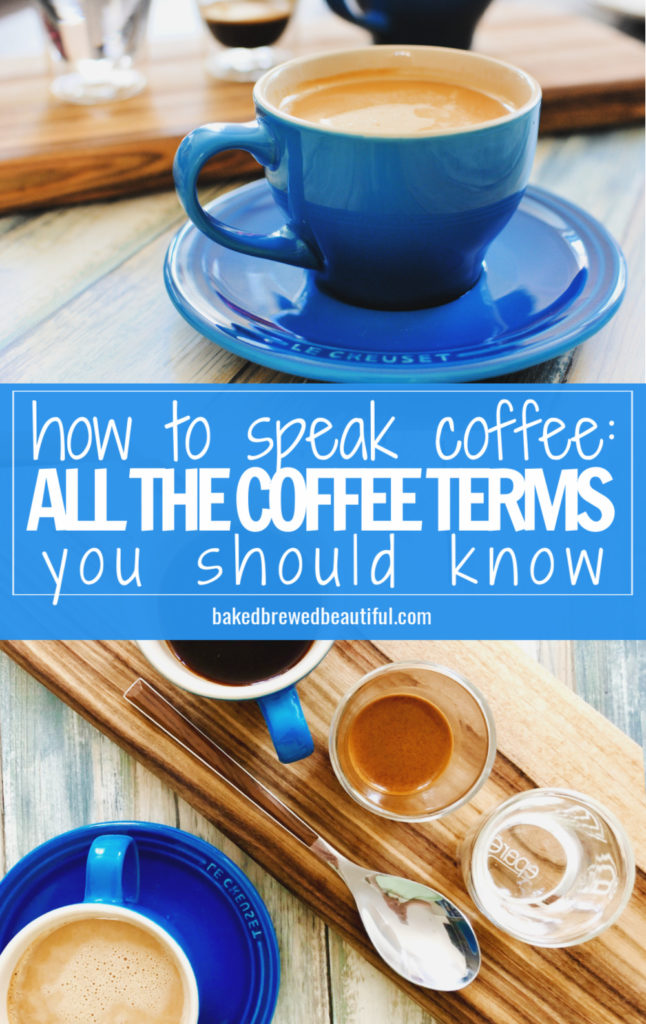 Macchiato
Espresso topped with steamed milk. Typically, 2 to 3 ounces.
Mocha
Chocolate syrup mixed with espresso and steamed milk.
COFFEE ROASTING
Dark roast
Beans that are roasted at high temperatures for long periods of time (that is, compared to both light and medium roasts). Dark roast beans boast of a dark brown shade and an oily surface area. When brewed, they have a full, thick body and a chocolatey flavor profile.
Light roast
Beans that are roasted at a lower temperature and for a shorter amount of time compared to that of dark roast beans. This produces a light brown shade in the beans and a dry surface. When brewed, light roast coffee tends to have a lighter body (like tea) with herbal and fruity tasting notes.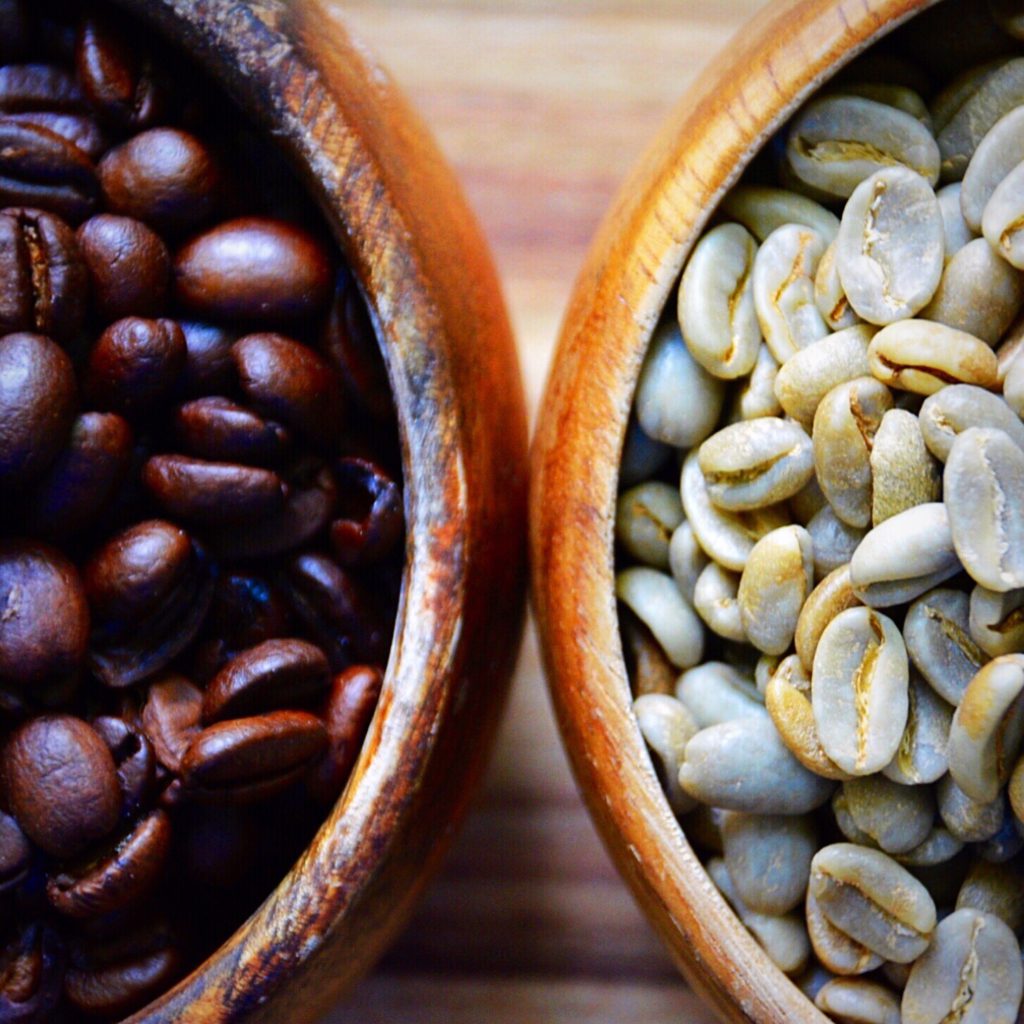 Medium roast
Roasting time and temperature is in between that of dark roast and light roast beans. Light brown in color with hardly any oil on the exterior, medium roast coffee beans have medium acidity and a more rounded flavor profile.
Roasting
The process of converting green beans into roasted coffee beans. Can be done a number of ways such as with an industrial size roaster, a cast iron pan, or even a popcorn maker.
BEANS
Coffee blends
Coffee beans that hail from multiple locations and are roasted and mixed together. Blends can be made up of coffee from all around the world. They also can have deep and complex flavor profiles, if done well.
Green beans
Beans that have yet to be roasted, also known as green coffee.
Single origin
Coffee beans that are from one place, typically from a certain country or region. Single origin coffee is often more expensive than blended coffee due to limited availability.
COFFEE SHOP LINGO
Barista
Someone who prepares your coffee at a coffee bar or coffee shop.
Coffee bar
A cafe or a bar in which coffee and usually refreshments are served.
Cupping
A method of tasting employed by coffee professionals in which coarsely-ground coffee beans are steeped with hot water in small, shallow bowls. Commonly, tasters use flat spoons to slurp or sip the coffee.
Latte art
Beautiful patterns and designs produced by pouring properly steamed milk into espresso drinks.
Learn To Consistently Brew Delicious Coffee
Subscribe to my free newsletter & get instant access to my FREE resource library to start brewing delicious coffee everyday! You'll find bonus tutorials, coffee recipes, and brew guides that don't get posted here on the blog.