Here's a list of 7 basics every coffee bar needs to have.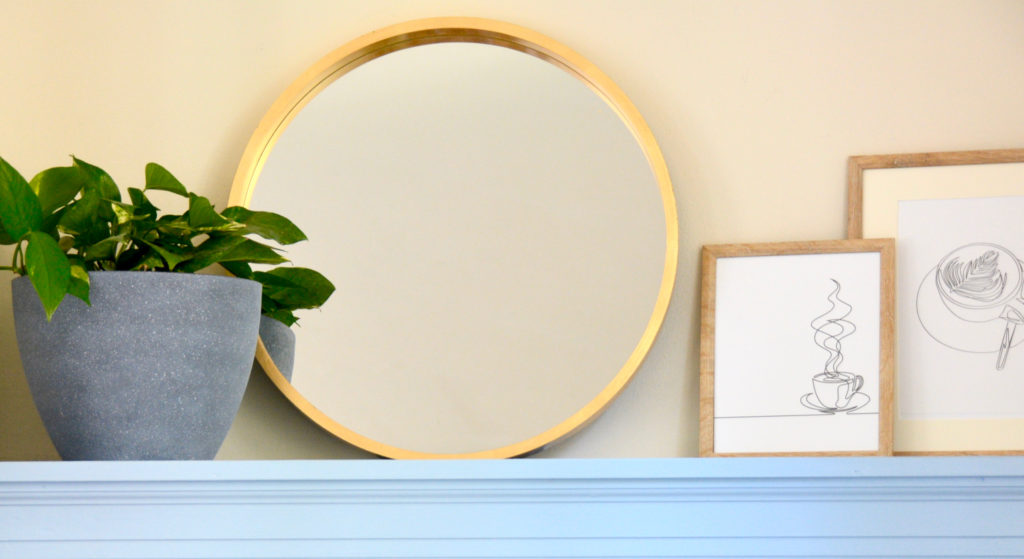 There are a few things every coffee bar needs no matter how big or small.
Choosing a color scheme early on will make your coffee bar more cohesive.
Besides your coffee maker and beans, consider adding a decor item that speaks to your personality!
Coffee bars seem to be getting more and more popular, and there are tons of ways to go about them. You can keep it small or go all out. But no matter what size you decide, there are a few essentials every coffee bar needs.
Here are a few key items you'll need to create your dream coffee bar.
For specific product recommendations, you can download my FREE list of can't-live-without coffee bar items. Sign up below to grab it right now!
Download My FREE Coffee Bar Must-Haves List
Join my weekly newsletter to get instant access to my free resource library and find out which stunning coffee bar products I actually use everyday!
PLUS be the first to find out about my other awesome coffee freebies. Sign up below!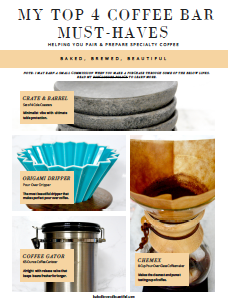 Decide what to house your coffee bar in.
First of all, you'll need a piece of furniture which can house all of your coffee supplies.
Kitchen hutches have recently become popular for repurposing into trendy coffee bars. You can also use a table or a cart in combination with some floating shelves on the wall. These are just a few ideas to work from. You may need to get creative based on the space you have available in your kitchen.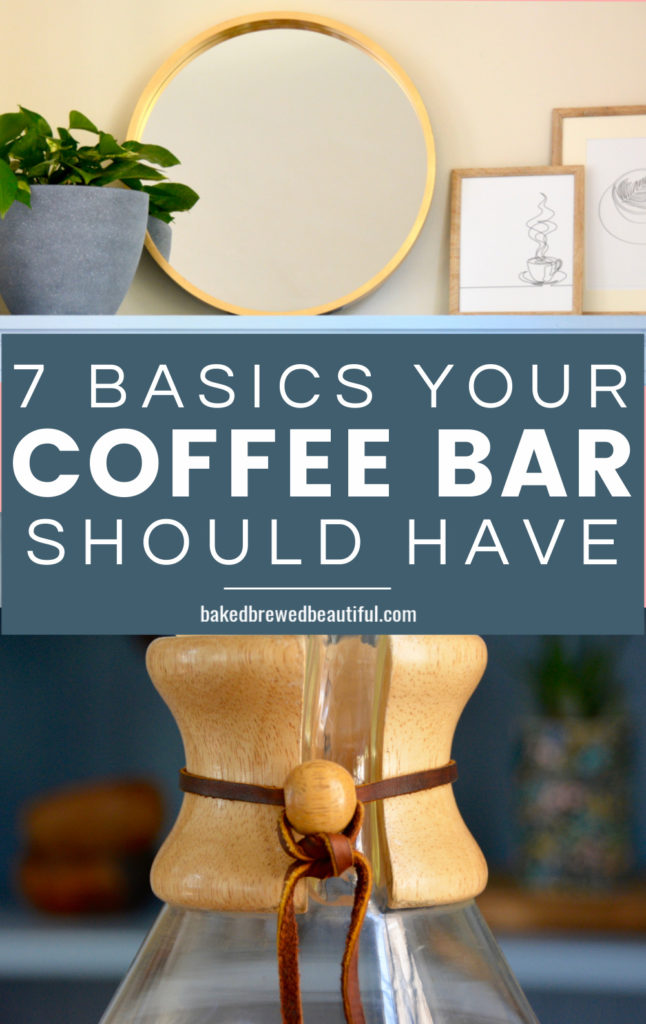 Pick a basic color scheme.
Next, you want to think of a color scheme for your coffee bar. It's good to think of this early on, so you know what items to look for when shopping for your new coffee bar. You can either buy new or work with what you have. If you decide to use things you already own, take notice of the colors that come up most frequently in your collection of coffee products.
I would recommend working off two or three colors to make things simple. Your coffee bar will end up looking much cleaner in using with fewer colors. You can choose one solid color paired with one neutral tone. For instance, my coffee bar is a mix of light wood tones and hues of blue.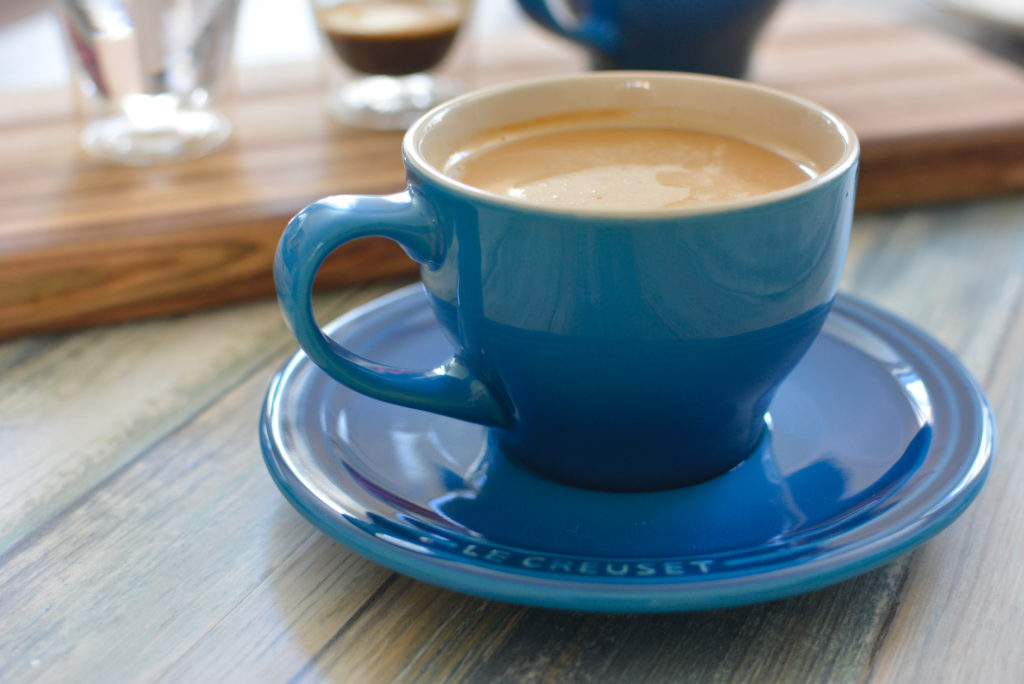 Gather your mugs.
Now is the time to start gathering your favorite mugs to place on your coffee bar (or the time to start shopping around if you've chosen a new color scheme).
Pick as many mugs as you need for those who live in your household plus one or two extras for guests.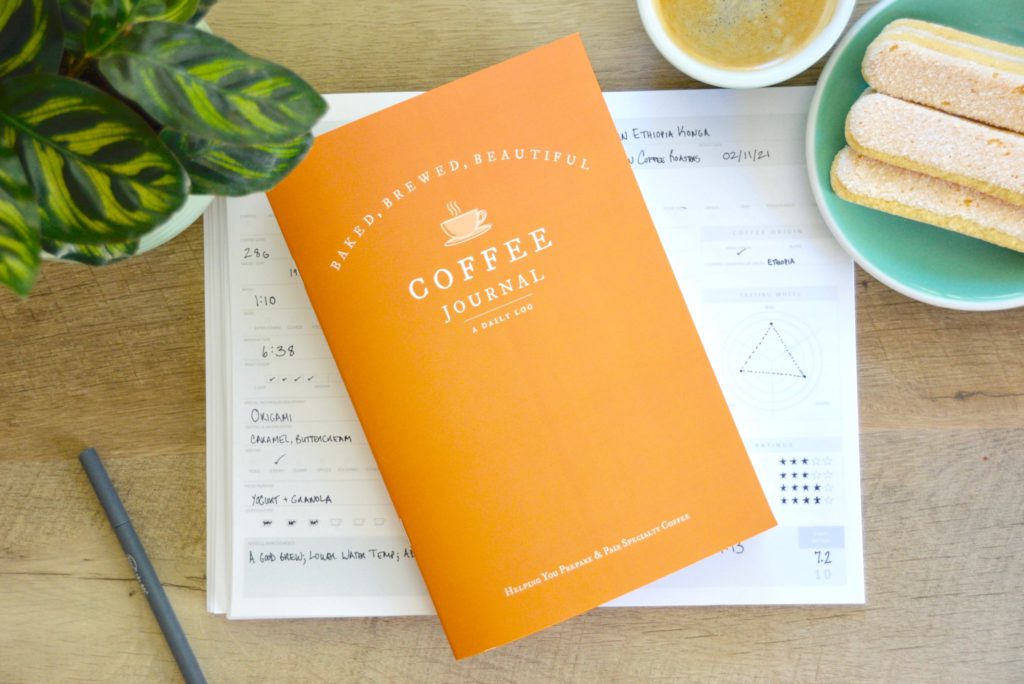 Track Your Daily Coffee Routine With The
Coffee Journal
The Coffee Journal helps you to capture the most important details of your daily brewing routine in one organized location.
In recording your regular brewing process, you can refine your cup of java & enjoy more consistent, quality coffee at home.
Get Started For Only $24
Or grab the digital version for only $18
Grab your coffee beans!
With that said, you also will want to place your coffee beans, grounds, and K-Cups (or whatever it is you use to make coffee) on your coffee bar as well.
Helpful Hint: If you're using grounds, you will want to place your coffee in an opaque canister to protect them from light and, in turn, extend their shelf life. While there are tons of adorable coffee canisters out there, just make sure you find one that is airtight!
Your coffee-making instrument is the star of the show.
Perhaps, the most important element of your coffee bar is your coffee-making instrument. This could be a French press, an espresso machine, a Keurig, a Chemex, or whatever you love using to make coffee.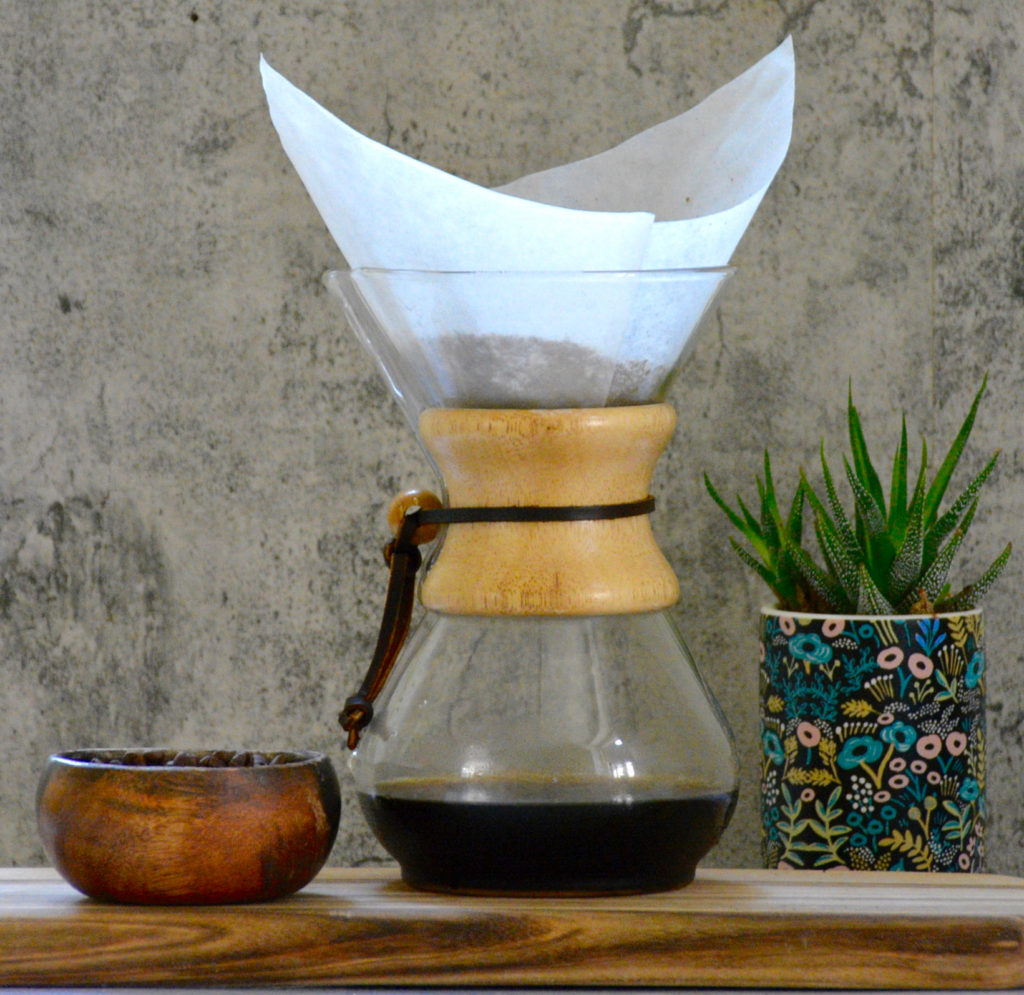 The idea here is to gather your coffee-maker and any accessories that go with it such as filters or frothing pitchers.
You can find out which brewing instruments I firmly stand behind in my FREE PDF of coffee bar must-haves, which you can grab below.
Bring over your add-ins, flavorings, spices, etc.
If you're someone who adds sugar, syrup, or spices to their coffee, definitely bring that over so it can live in your new coffee bar. You want to have everything in one spot.
Again, there are a lot of great options for housing these kind of items such as ceramic or wooden canisters. Choose something that will fit within the color scheme you've selected.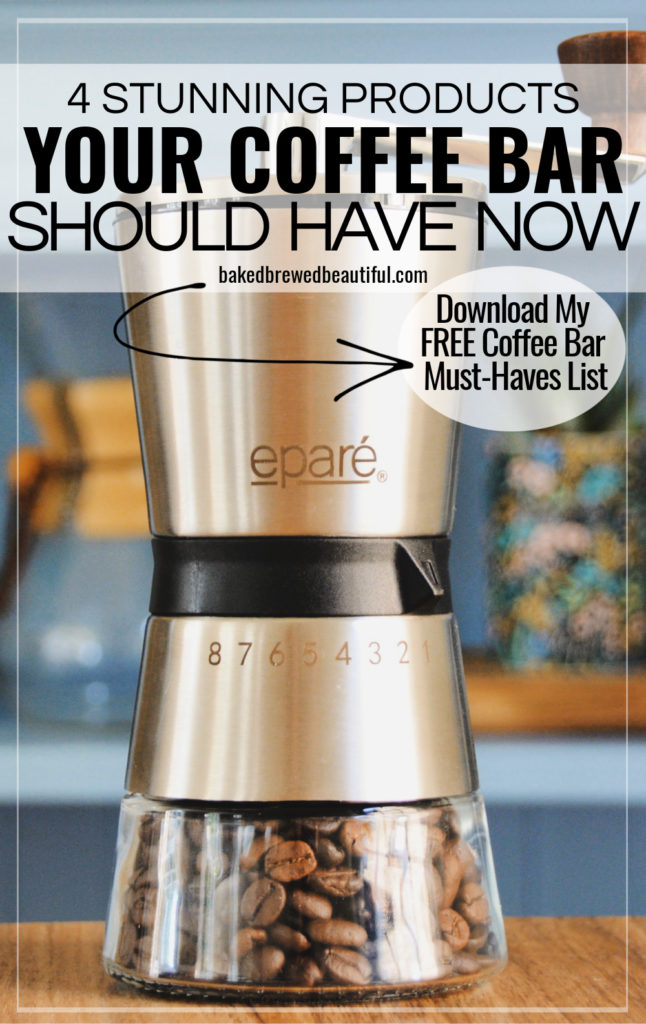 Finally, add a personal touch.
The last thing you want to think about is adding a personal flair to your coffee bar. This can be something as simple as a plant or something more extravagant like a light-up coffee sign.
Whatever your personality is, let it shine brightly through your coffee bar design.
Need more design guidance?
Subscribe to my newsletter & get instant access to my FREE resource library to grab my list of top coffee bar products!
PLUS be the first to find out about my other awesome coffee freebies. Sign up below!