Take a trip to one of Seattle's top 5 favorite bakeries that locals love but work hard to keep under the radar.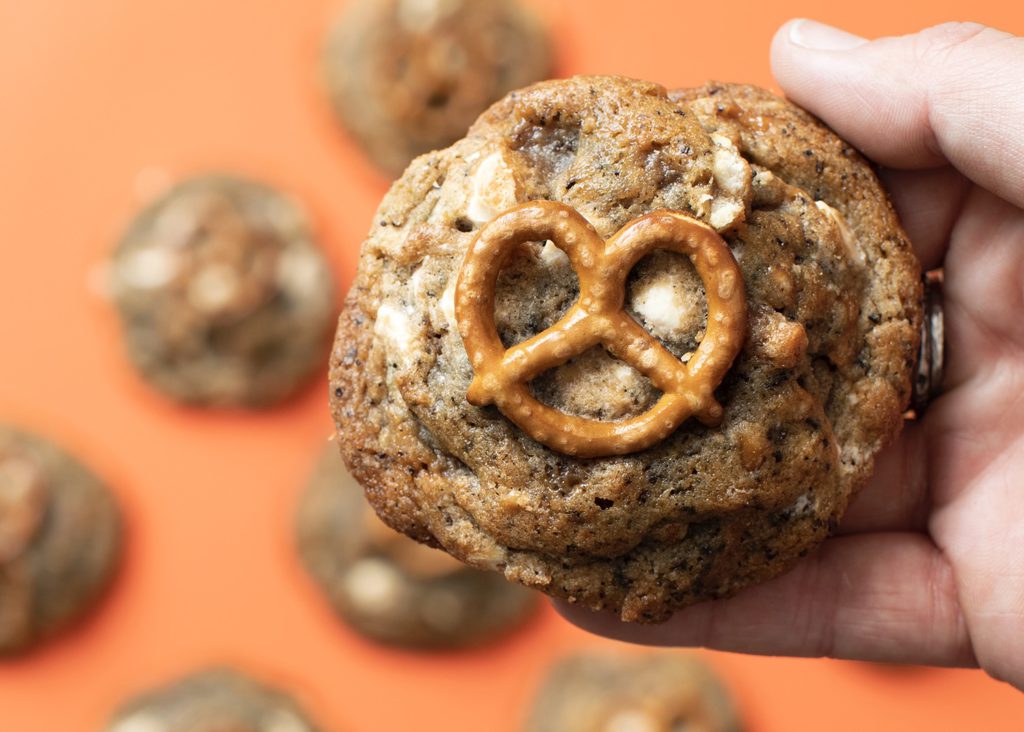 Baked, Brewed, Beautiful

asked local Seattleites to share their favorite secret bakeries.
The Flour Box serves the freshest donuts in town, but you have to get there early to snag one before they sell out.
Askatu Bakery Cafe serves all gluten-free pastries to accommodate nearly all dietary restrictions.
Grab the free

Coffee and Food Pairing Chart here

to help you pair the best Seattle baked goods and coffee at home!
It's no secret that Seattle is the coffee capital of the country, holding so much coffee history as well as many coffee enthusiasts. But besides a guaranteed good cup of joe, did you know that the Emerald City is also home to some incredible bakeries?
While we are all about the coffee here, we also LOVE to pair our coffee with baked goods to bring out new flavors that ultimately transform the coffee-drinking experience. As such, we put together a list of the city's favorite bakeries so you can drink great coffee with great food.
To find Seattle's best-kept secret bakeries, we spoke to locals, did plenty of research, and, of course, taste-tested many baked goods.
Read on to find the best Seattle bakeries.
Saint Bread offers a sweet & savory menu that is sure to please the masses.
If you're looking for diverse bakery offerings as well as a diverse team of founders, check out Saint Bread located in Portage Bay near the University of Washington.
What was formerly the Jensen Motor Boat Company on Jensen Marina is now a modern bakery and community space serving delectable baked goods, coffee, and beyond.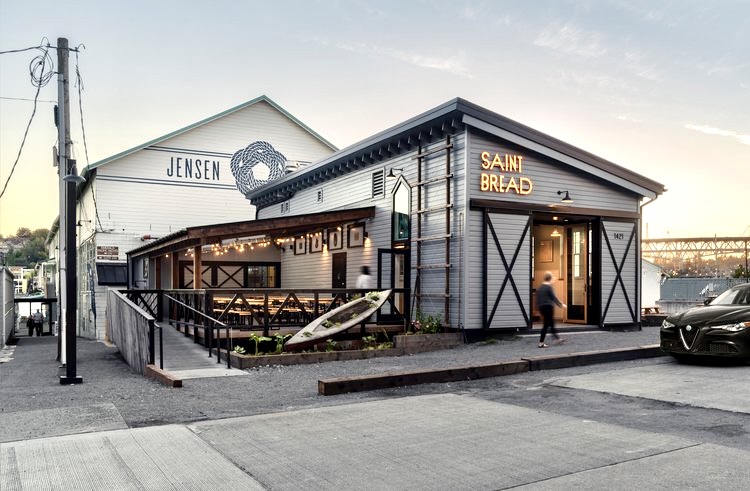 Saint Bread was started by Yasuaki Saito, Michael Sanders, and Randi Rachlow, each of whom drew from their heritages and experiences to bring an expansive menu of French, Japanese, American, and Scandinavian cuisine.
A few fan favorites from their menu include Cinnamon Sugar Toast, Fruit Danishes, and Orange Miso Coffee Cake. Saint Bread also offers heavier and hearty meals like cheeseburgers and sandwiches. And of course, don't forget the beverage menu, which includes coffee and tea, soft drinks, beer, sake, wine, and hand-crafted cocktails.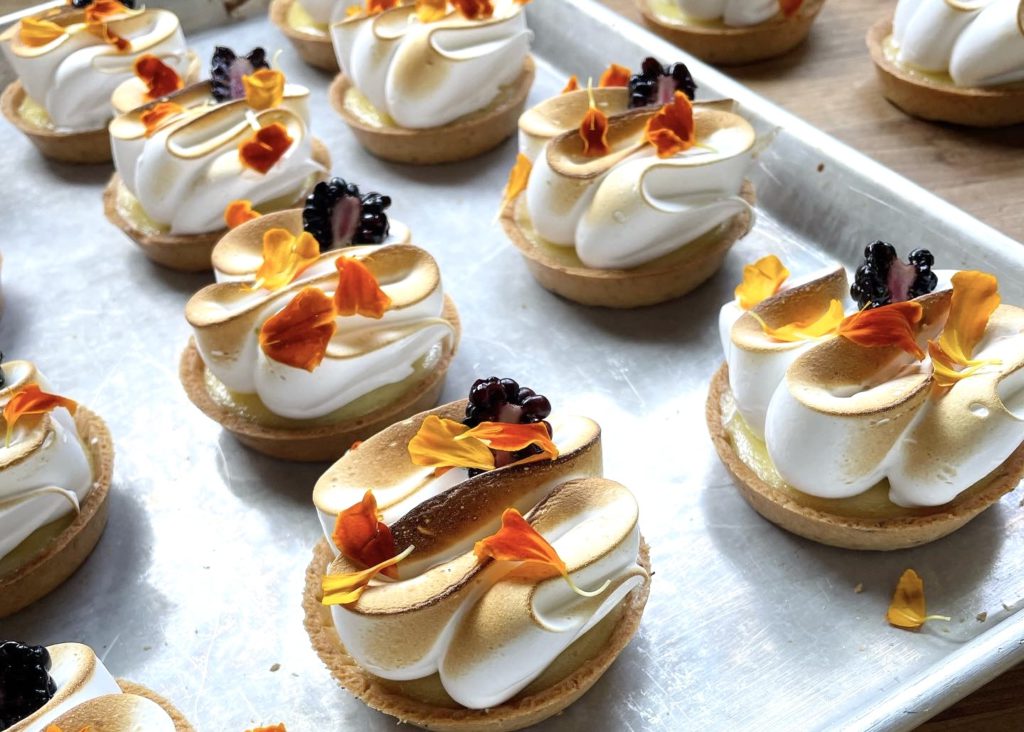 Photos courtesy of Saint Bread
Beyond their incredible menu, the ambience of the space is something worth noting. Due to the history of the spot's previous owner, Saint Bread worked hard to keep the machine shop's character intact while incorporating the history of craft on the Jensen Marina. You'll also find the spot to be stunningly illuminated by colored light through the stained-glass windows, designed by Factory North & Studio Superconductor.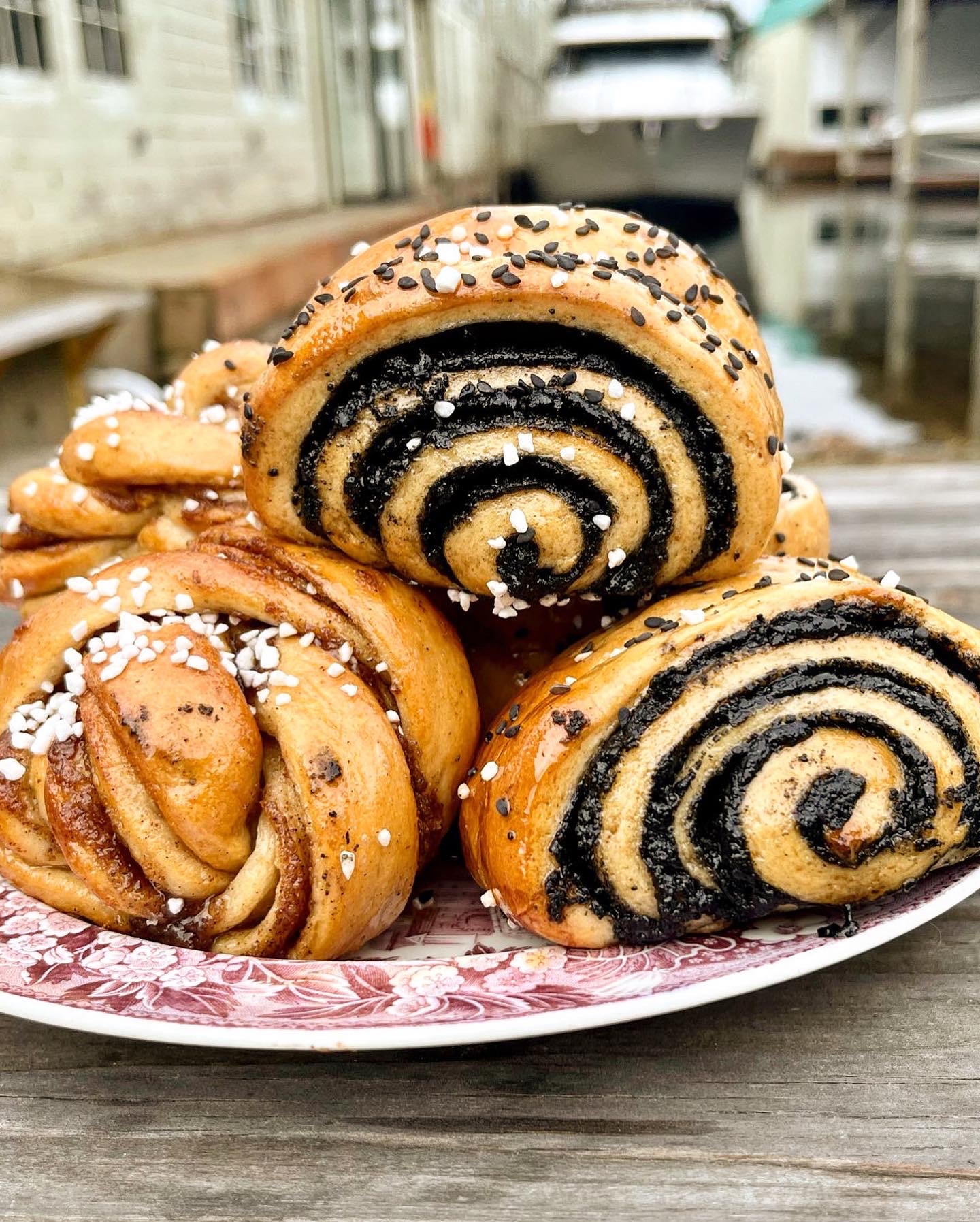 Saint Bread Hours & Address
Hours:
Mon – Sat: 7:30am – 6pm, Sun: 7:30am – 3pm
Address: 1421 NE Boat St, Seattle, WA 98105
More Info: Saint Bread Menu Insta: @SaintBreadSeattle
The Flour Box serves the freshest brioche filled donuts in Seattle – get there early before they sell out.
A long line out the door is a sure sign of a good bakery. And you'll find this to be the case everyday that The Flour Box is open. What makes this POC, woman-owned and small family-run business so sought after is their handmade filled brioche donuts. Unlike your typical donut shop, these donuts are made over a three-day process for optimal flavor and texture.
They are divided, shaped, fried, coated in sugar, filled, and garnished completely by hand – prepared only in small batches to uphold the highest of standards. Plus, all of their fillings are made in-house, using only high-quality, natural ingredients. From Matcha Cream to Fig Leaf Custard, The Flour Box is known for their unique and complex flavors in their donuts. In addition to donuts, The Flour Box sells other yummy baked goods and locally roasted coffee to pair alongside their donuts.
The Flour Box is located in the very south end of Seattle in Hillman City. At the time of this article, The Flour Box is open Thursday through Sunday, from 10am to the time they sellout (around noon). See website for most up to date hours. It is recommended you arrive at the shop early, as lines form prior to opening.
With twelve flavors and the perfect crunchy to gooey ratio, Bell's Cookies are hard to resist.
If you love classic cookies with a spin, then Bell's Cookie Co. is for you. The cookie shop was recently named Washington's "Best Cookies." This cookie company focuses on nostalgic tastes with a twist. With twelve flavors and the perfect crunch to gooey ratio, Bell's Cookies are hard to resist.
Brooke and Tomas Perez started this family business back at the beginning of the pandemic. To their surprise, cookies is what brought them success even in the midst of COVID-19. They began shipping their cookies nationwide, allowing them to open Bell's Cookies, named after their daughter Isabella.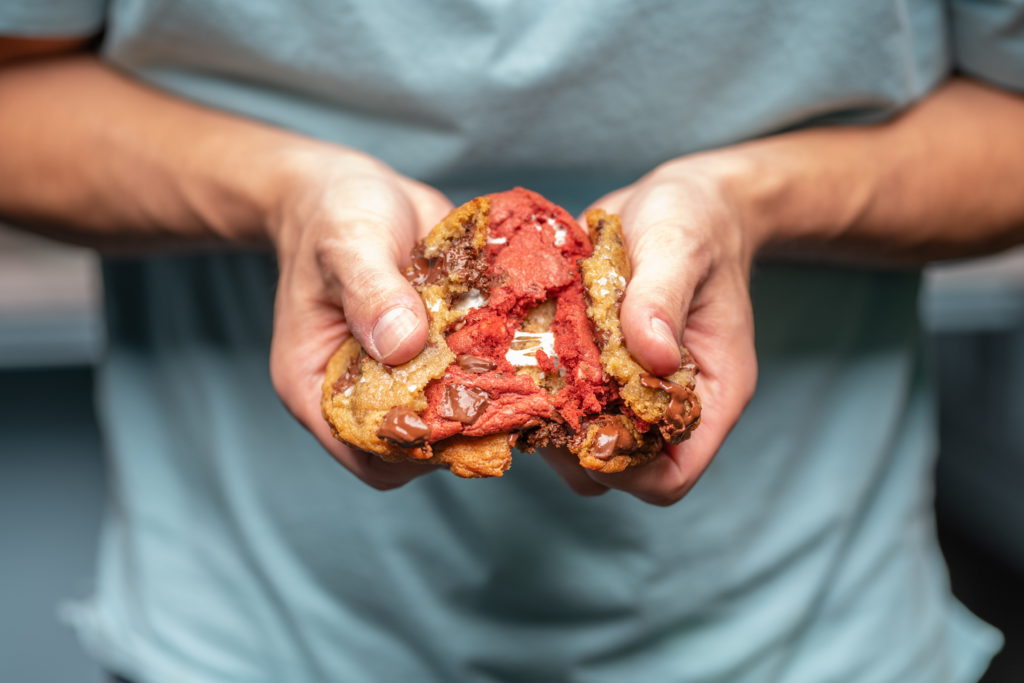 Cover photo & above photo courtesy of Bell's Cookie Co.
Chocolate Monster, S'more, Red Velvet, and Colombian Corn are just a few of the flavors you'll find on the menu at Bell's Cookies. And what's cool about their cookies is that each has something unique to offer. The S'more cookie comes complete with a graham cracker base. The Bell — named after Isabella — has potato chips, dark chocolate toffee, and pecans mixed into the dough.
All cookies are made to order and individually wrapped. You can head over to the store in Greenlake to watch the cookie magic happen through the glass-walled kitchen or have them delivered straight to your door as they ship around the country! Their most popular cookie is, of course, their chocolate chunk with Maldon salt.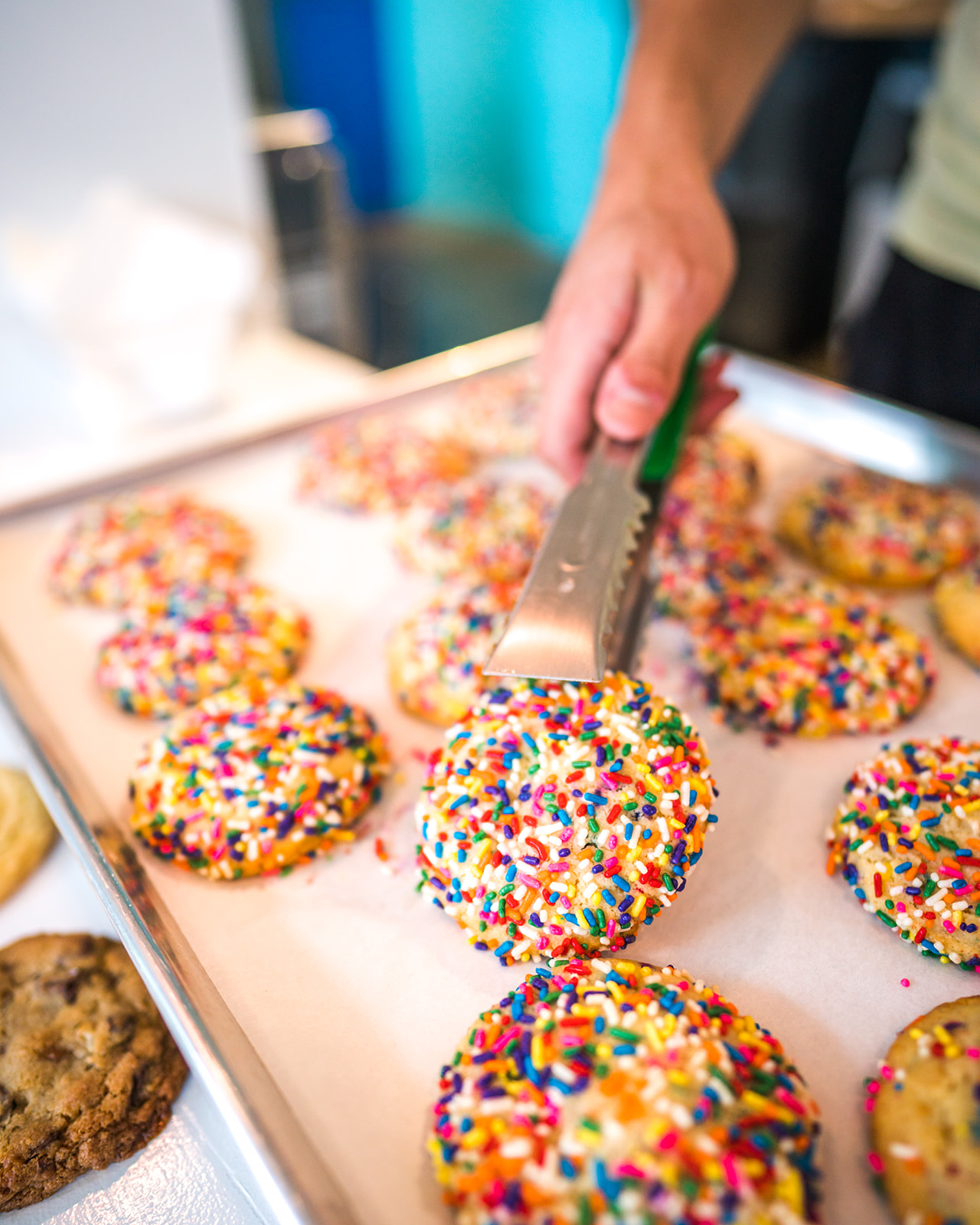 Bell's Cookies Hours & Address
Hours:
Tues – Thurs: 10am – 8pm, Fri – Sat: 10am – 9pm
Sun: 10am – 7pm
Address: 6900 E Greenlake Way N, Seattle, WA 98115
More Info: Bell's Cookies Menu Insta: @BellsCookieCo
Askatu Bakery Cafe may be the best gluten-free bakery in town, offering artisan treats to those with special dietary needs.
Fear not, gluten-free friends. If you are someone who has food allergies, you can still enjoy amazing pastries in Seattle, Washington thanks to Askatu Bakery in Belltown.
With their cornucopia of artisanal treats for pastry lovers with special dietary needs, Askatu Bakery Cafe by Liberated Foods has you covered. From their must-have breakfast sandwiches and pop-tart hand pies to their sourdough and focaccia, you're sure to find something you'll love.
Askatu's recipes were born out of necessity when the usual ingredients for gluten-free treats were allergens for her family. This prompted the founder to look to her Asian roots to create more inclusive and even more delicious treats. Askatu is constantly experimenting with new ingredients and playing with old recipes to expand their offerings. Their hope is to give people the freedom to eat high-quality, delicious food without having to worry about consuming harmful ingredients or allergens.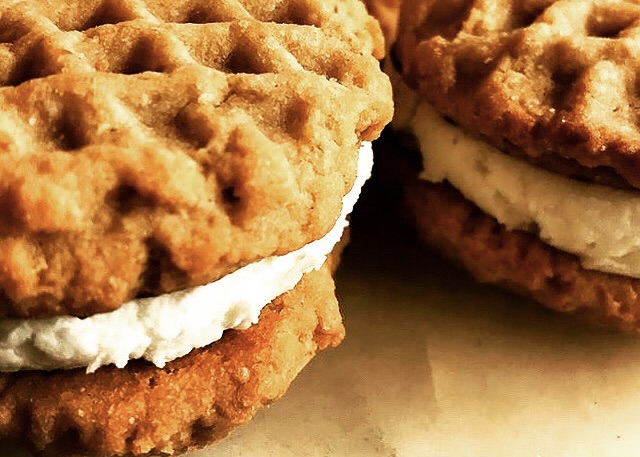 Photos courtesy of Askatu Bakery Cafe
And what's even more unique (and wonderfully inclusive!) about Askatu's treats is that they are not only gluten-free, but also free of many other allergens including dairy, eggs, soy, peanuts/tree nuts, corn, potato, sesame, and xanthan gum.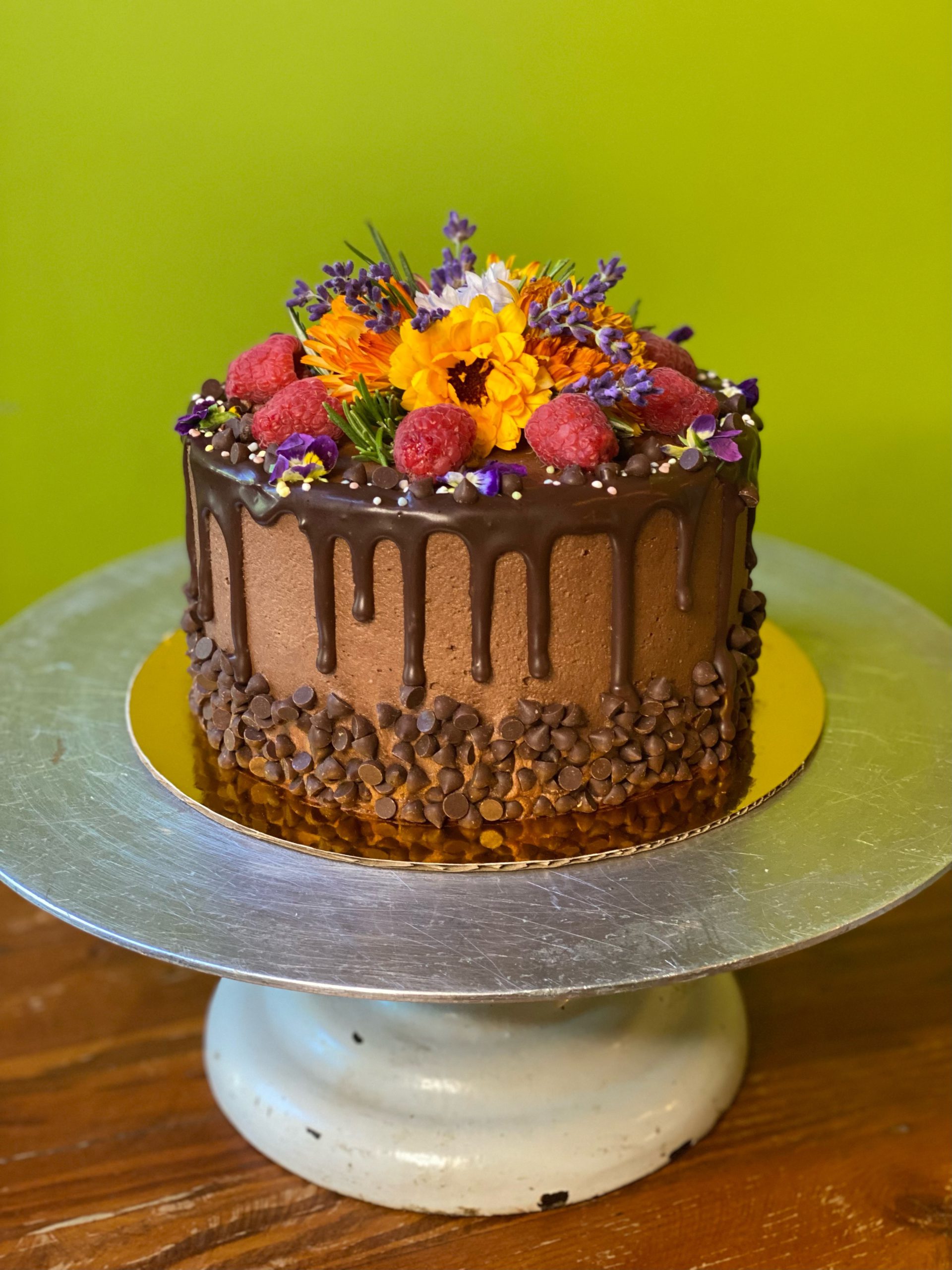 Tres Lechería sells nine to ten different tres leches cake flavors on a daily basis that change with the seasons.
Cake lovers need not look further than Tres Lechería, winner of Netflix's, "Sugar Rush" and Food Network's, "Winner Cake All." Located in Wallingford, Seattle, this Mexican-influenced bakery sells incredibly unique varieties of the traditional tres leches cake.
The shop offers nine to ten different flavors of their tres leches cakes every day. At the moment of this article, there are ten! From Sweet Corn and Honey and Fresa Tres Leches Cake to Mexican Mocha and Matcha Tres Leches Cake, the creativity here is endless thanks to founder and genius Kevin Moulder.
Moulder was inspired to bake and get creative in the kitchen at a young age by his grandmother in San Antonio, Texas. From there, he pursued his passion of baking, eventually leading to Tres Lechería – a culmination of 15 years of pastry experience, bakery ideas, and many long days/nights. Moulder hopes to share his family's recipe and continue to be able to provide representation for the Latinx community with a group of people who may not be familiar with it in Seattle, Washington.
Tres Lechería Hours & Address
Hours:
Tues – Wed: 11am – 6pm, Thurs – Sat: 11am – 8pm
Address: 2315 N 45th St, Seattle, WA 98103
More Info: Tres Lechería Menu Insta: @Tres_Lecheria
Pair Your Seattle Baked Goods & Coffee The Right Way
Download the Food & Coffee Pairing Chart (PDF)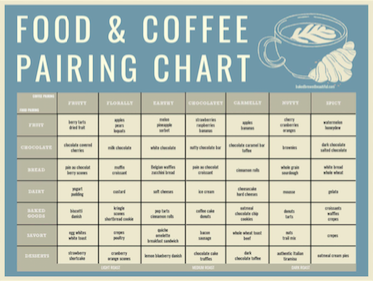 Hang this chart on your fridge to help you find your next food and coffee pairing!
Sign up for the BBB newsletter to download the chart for free!