Learn the tricks of the trade when it comes to preparing the best after-dinner coffee at home.
Guest Post By: Kieran MacRae of Above Average Coffee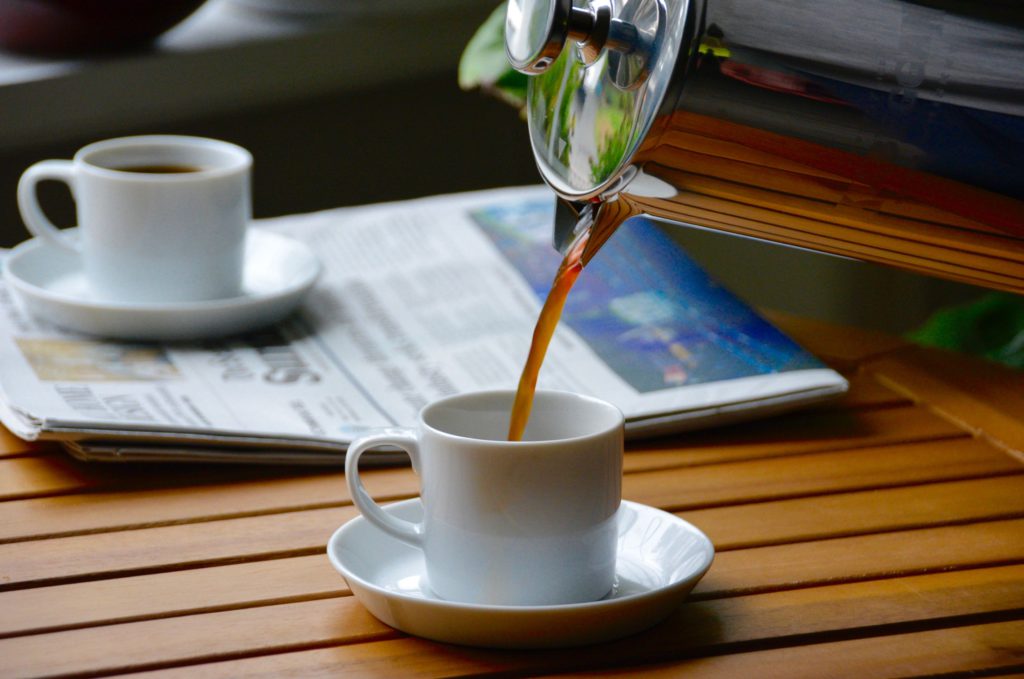 Baked, Brewed, Beautiful

asked a coffee expert to share his best tips on how to prepare the best after-dinner coffee.
The expert suggested serving a sweet coffee, such as a Spanish latte, in place of the dessert course.
He also said to opt for

freshly-roasted coffee beans

to treat your guests to something extra special.
Get the list of the best 2021 coffee beans to serve as your post-meal coffee.

Jump to the list by clicking here

.
While after-dinner coffee — or café noir as it's also known — is usually reserved for restaurants and dinner parties, it can also be a nice treat to enjoy at home especially with the upcoming holidays.
With that being said, you wouldn't want to have served a lovely and delicious meal and follow it up with burnt diner coffee (as this may be what your guests remember most of all!).
Read on for some tips and tricks to serve only the best kind of after-dinner coffee, according to our coffee expert, Kieran MacRae of Above Average Coffee.
Quick Links To Info In This Post
5 Best Practices For Café Noir
Offer both decaf and regular coffee.
I myself am an after-dinner decaf drinker. If I drink coffee after 5 p.m., I'll be left lying in bed wide awake. My wife, on the other hand, can happily have a fully-caffeinated coffee and go straight off to sleep. So as with most things, it's personal preference.
In the case of hosting a dinner, it's a good idea to offer both options: decaf and regular coffee. Having a spare carafe of some kind on hand is an excellent idea, so you can brew both types (decaf and regular) and bring them to the table.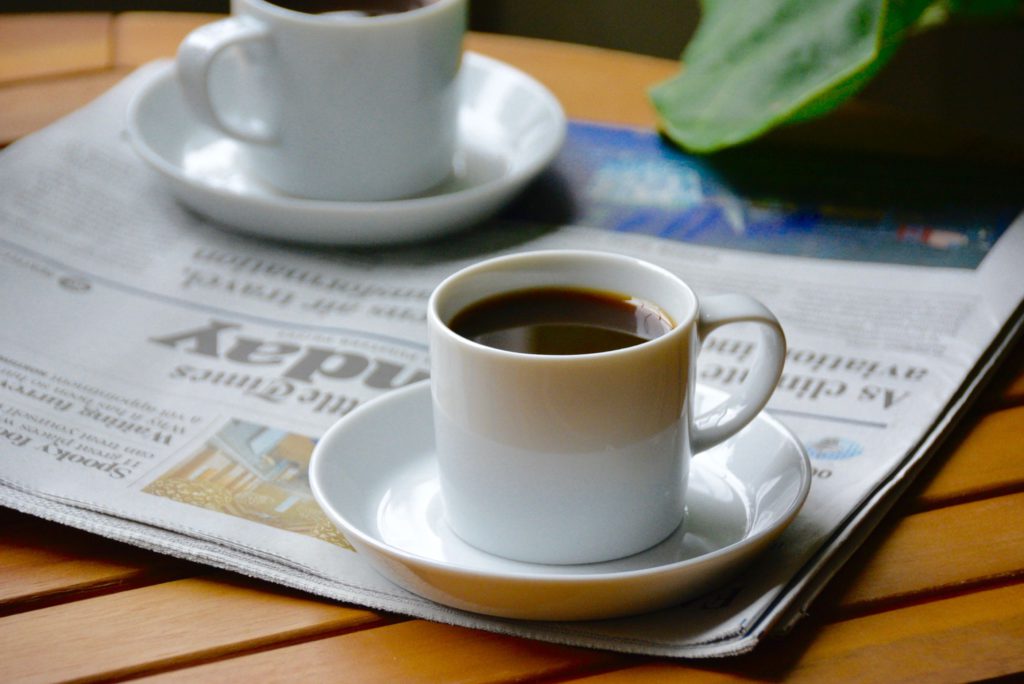 Depending on your brew method, you could potentially get two French presses or even a second coffee pot for a drip machine. They're not hugely expensive and in this case, they're really handy.
Serve coffee as a dessert.
Why not enjoy your coffee as a dessert hybrid? Enjoy it as the dessert course by making something sweet like an Irish coffee — a three-layered drink of Irish whiskey, black coffee, and whipped cream.
If you'd rather skip the alcohol, another idea is to serve a Vietnamese egg coffee or a Spanish latte. Both of these drinks combine coffee and condensed milk into a very decadent and delicious dessert coffee.
Vietnamese egg coffee is a combination of strong black coffee (or espresso) and milk whipped with an egg yolk. Normally, this drink is made with a 1:1 ratio. Often, robusta beans are used to get that strong coffee taste to counter the intensely sweet condensed milk.
A Spanish latte is made of three equal parts: condensed milk, steamed milk, and black coffee. Spanish lattes don't layer in the same way a Vietnamese egg coffee does. It lessens the intensity of the condensed milk having an extra milk part in the recipe.
Choose a brew method that's quick & delicious.
When it comes to your coffee brewing method, I personally love a drip machine for after-dinner coffee. It's smooth, it's fast, and it's hands-off so you don't have to hide in the kitchen for ages preparing it. Best of all, if you have a decent drip machine, it tastes really good.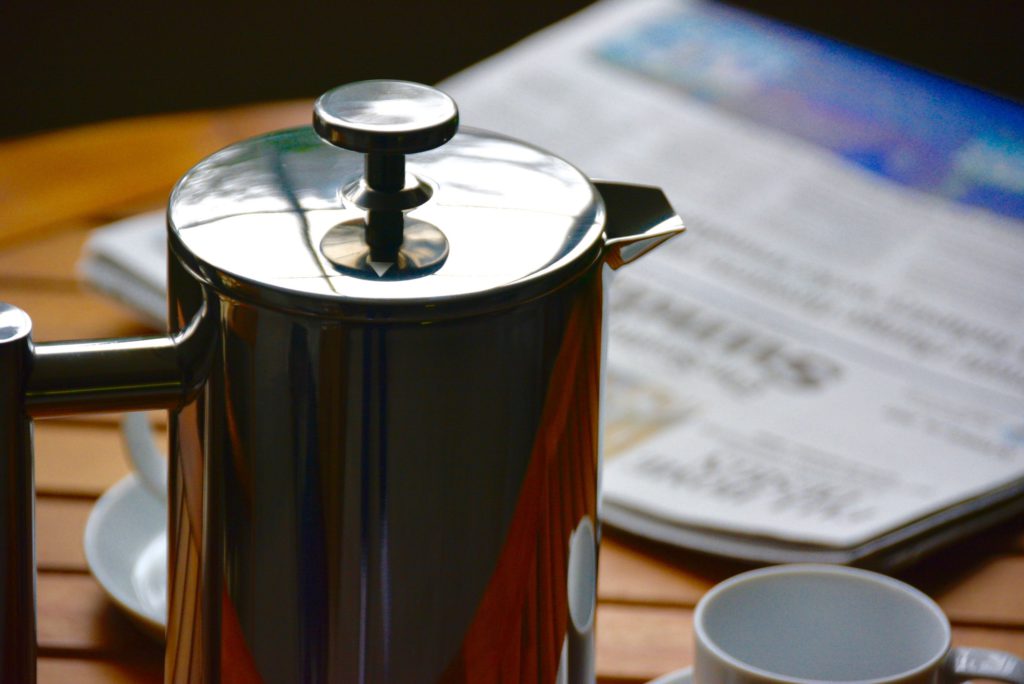 As a backup, the French press is always a good way to go. You can brew it at the table once the hot water is ready, and there's something inherently classy about a French press when you bring it to the table.
The coffee can get a little overpowering in a French press if you're not on top of the timing. But when brewed properly, it's a delicious way to enjoy your coffee. Just don't forget to let those coffee grounds bloom when you first add a little bit of water!
Keep the cups small.
Serve your post-dinner coffee in small cups such as in espresso cups or mini mugs.
When you've had a big delicious meal, you don't want to force down an enormous cup of coffee (see FAQ section below for more info). Some nice smaller 4-ounce cups are plenty for after dinner. And if you make enough coffee, guests can always help themselves to more coffee if they want it.
Use freshly roasted coffee.
While the brand and type of coffee is a personal choice, what is always a must is freshly roasted coffee. The taste is night and day compared to store-bought coffee that might have sat on the shelf for who knows how long.
Fresh coffee brings the complexity and flavor profiles that make coffee so enjoyable. And if there's one thing you deserve, it's a fresh cup of delicious coffee.
Jump to the list of best-tasting coffee beans in 2021 by clicking here!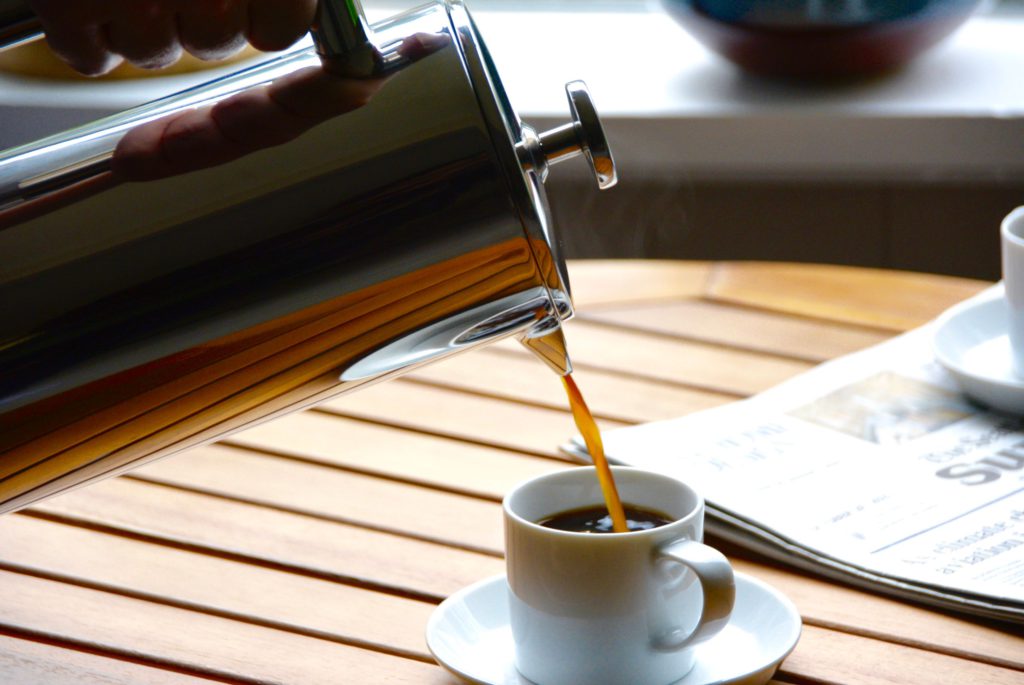 This is especially important if you're hosting. Why not spring for a fresh bag of coffee to impress your guests? Instead of taking out your usual coffee from the cupboard, get something a little special that has everyone making those "oooo" sounds when they've just sipped a really good cup of coffee.
This was a guest post from Kieran MacRae of Above Average Coffee. Head over and sign up for his newsletter to receive the coffee brewing cheat sheet!
FAQ
Why do people drink coffee after dinner?

Not only does drinking coffee after a meal help with digestion, but some claim that it's also an appetite suppressant; thus, reducing the chances of snacking after dinner.

Another perk of post-dinner coffee is that it's calorie-free (when you drink coffee black), as compared to a sweet and heavy dessert.
How long should you wait to drink coffee after a meal?

In general, it's best to wait one hour after dinner to enjoy a cup of coffee. Some studies have shown that hot beverages, such as black coffee or tea, can inhibit the body's ability to absorb iron and other important minerals from your last meal.
What's a good after dinner coffee?

A few good after-dinner coffees include an affogato, an Irish coffee, a Spanish latte, or a simple black coffee.
Is it good to drink black coffee after dinner?

In most cases, yes.

If you're looking to lose weight, drinking black coffee after dinner can have a number of benefits. Black coffee contains chlorogenic acid, which slows the production of new fat and glucose cells in the body.

Black coffee also has antioxidants, which can help with weight loss.
What culture drinks coffee after dinner?

Typically, coffee is served black after dinner in French culture (usually alongside a cognac). Italians also enjoy an espresso after dinner if a big meal was had.
What is an after dinner coffee called?

Most commonly, "café noir" is commonly used to denote an after-dinner coffee. Other names for a post-dinner coffee could be a "demitasse" or a "digestif" if the coffee is mixed with alcohol.
Note: While this post may touch on the topic of "health," I am absolutely not a doctor, nor do I claim to be giving health or medical advice. Any health or medical related advice found on this site are based on thorough research and personal experience.
Grab the list of the best-tasting coffee beans of 2021!
Just want the list of the top 2021 coffee beans?
Subscribe to my newsletter to grab the PDF version of the above list of 2021's Best Tasting Coffee Beans.
Plus, be the first to grab bonus recipes and other awesome coffee freebies. Sign up below!