Klean Kanteen Coffee & Tea Kit
$65.95
Pros
Simple, yet elegant design
Maintains temperature of drinks
Durable
Easy to clean
Eco-friendly
Cons
Imparts slight metallic taste in coffee
Fits most cup holders, but not all
Straw lid is not leak-proof
A set of durable coffee travel mugs that can accommodate all types of drinks beyond coffee.
Note: I may earn a small commission when you make a purchase through some of the below links. Read my disclosure policy to learn more.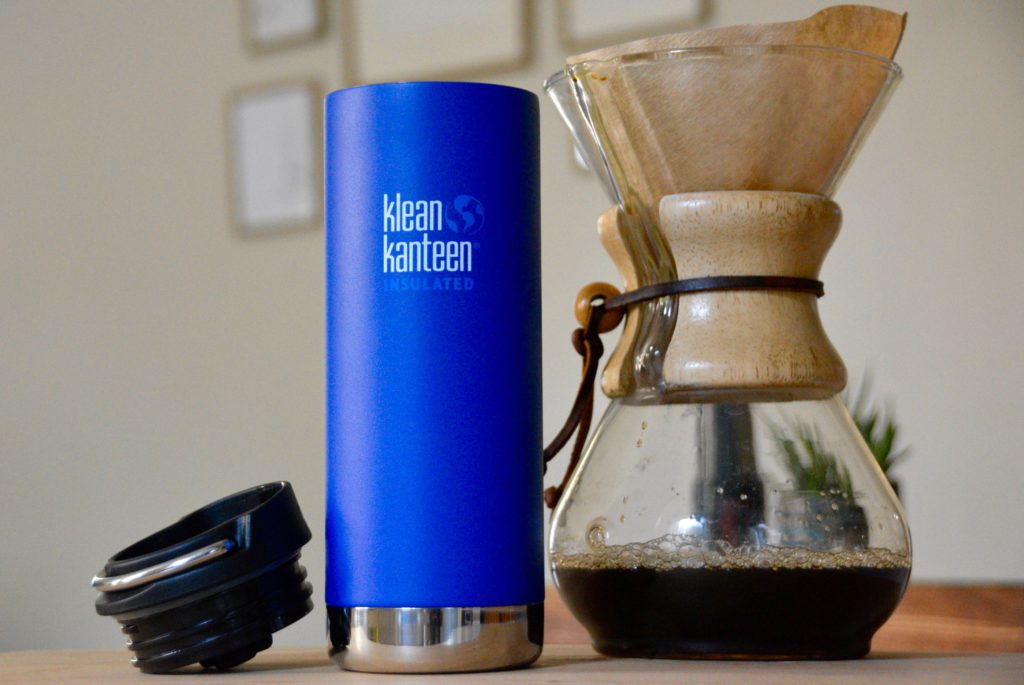 Note: This is a sponsored blog post, but all opinions are my own.
Klean Kanteen is an environmentally-conscious brand that produces many types of drinkware.
Their travel coffee mugs are one of their most popular items.
We tested the Klean Kanteen Coffee and Tea Kit and Bundled Set, a durable set of insulated tumblers and lids that accommodate hot and cold coffee drinks.
There's nothing worse than cold coffee (that isn't supposed to be cold!). This can be bound to happen when you're out and about and are forced into using those convenient, but environmentally harmful paper coffee to-go cups. Yet the truth is, these types of travel cups simply won't keep your drinks at their ideal temperature for very long.
Fortunately, travel coffee mugs (or insulated tumblers) have come to the rescue. Travel thermoses keep hot coffee piping hot and keep iced coffee very cold for long periods of time.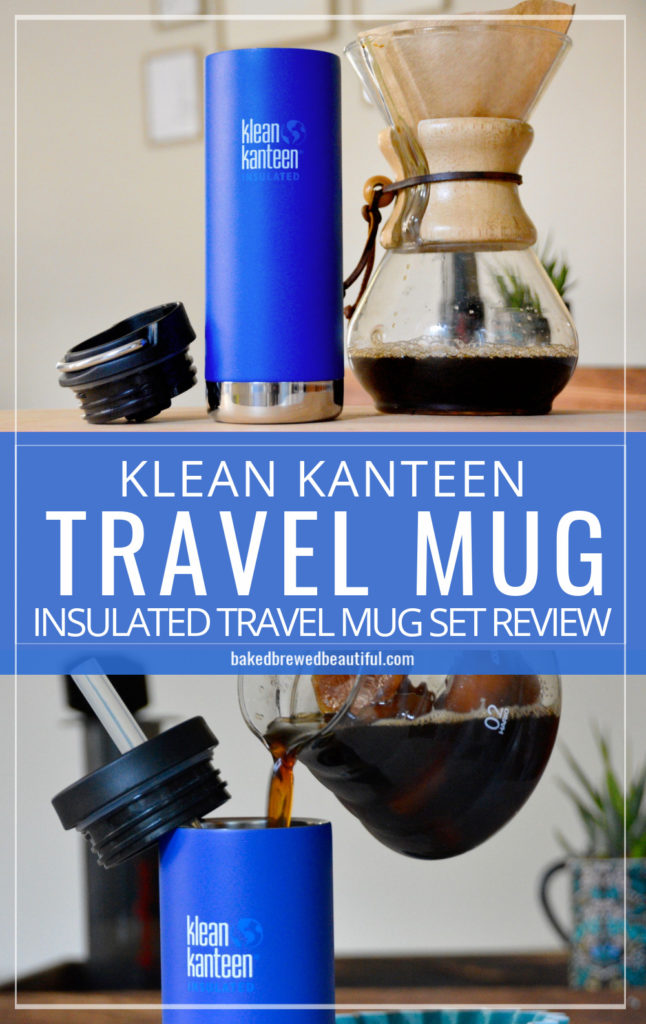 These types of travel mugs make it easy to enjoy your favorite beverages on-the-go, while keeping them in a leakproof, ergonomic, and insulated container. Plus, many travel mugs come in beautiful colors and designs that make them all the more appealing.
One environmentally-conscious brand that manufactures travel mugs is Klean Kanteen. We decided to test out their Coffee & Tea Kit, which includes two travel coffee mugs and four lids. In using the travel mugs for several months, we tested their insulation performance, design, price, cleaning, and environmental footprint. Read on to see what we discovered.
Design: Simple, but elegant
For starters, the Klean Kanteen insulated tumblers are simple, but elegant. There are a variety of beautiful pastel and neutral color options available. Our travel mugs came in the colors of Deep Surf and Real Teal. Both shades were stunning. The Klean Kanteen logo lays across the front of the tumblers in white lettering. We liked the overall simplistic design, as it wasn't too busy.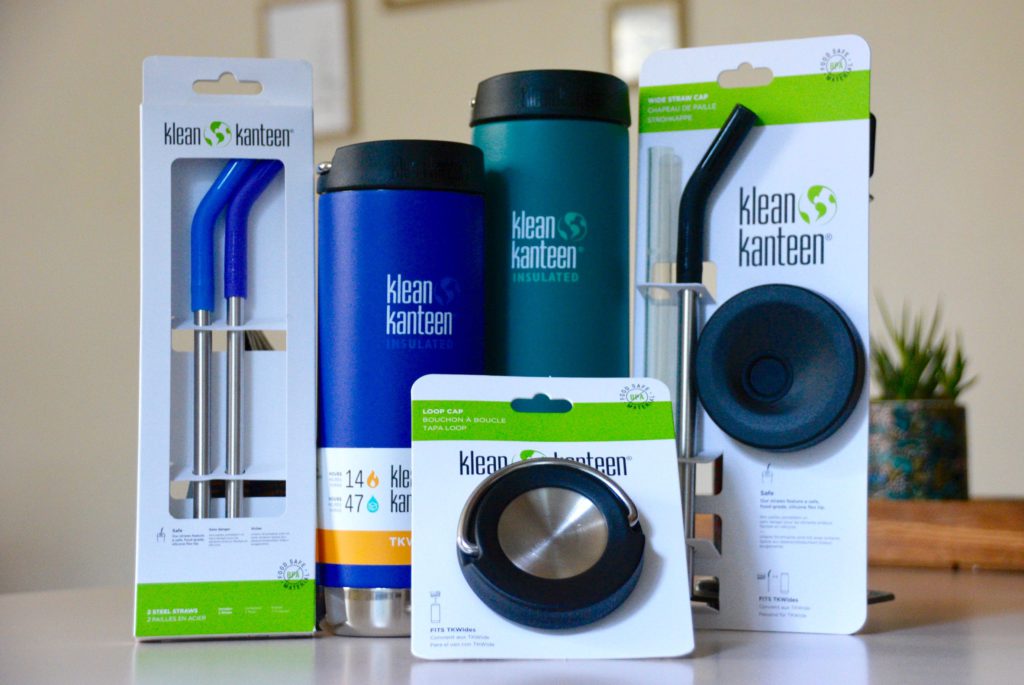 In terms of size, the 16-ounce insulated tumbler measures 8.65 x 3.0 inches and weighs 13.9 ounces. The 20-ounce insulated tumbler measures 10 x 3.0 and weighs 15.8 ounces. We found that this size was convenient for holding and handling, and neither of the travel mugs felt too heavy. The size was also good for fitting inside our main car cup holders, though not all. The tumblers were too tall to fit inside the cup holders located in our car door unfortunately.
These insulated tumblers are compatible with all four included caps. The Wide Loop Cap screws on and off the tumbler, and helps to increase thermal performance with its vacuum insulated center. It also has a loop handle for carrying. The Café Cap also has a loop handle as well as slides open and shut for easy access to your beverage. The Straw Cap comes with a stainless steel and silicone straw. The straw seamlessly slips right into the cap, though this lid is not leak-proof.
Material: Stainless steel with powder coat finish
Both travel coffee mugs are made of stainless steel, and all kit components are BPA-free. Each insulated tumbler features a powder coat finish, which helps to firmly grasp onto the cups without slippage. The finish is also chip-resistant, making these guys more durable. In addition, the insulated tumblers are double-wall vacuum insulated, which means they keep hot drinks hot and cold drinks cold for a long while. The caps, as well, have excellent thermal performance to keep drinks at their ideal temperature.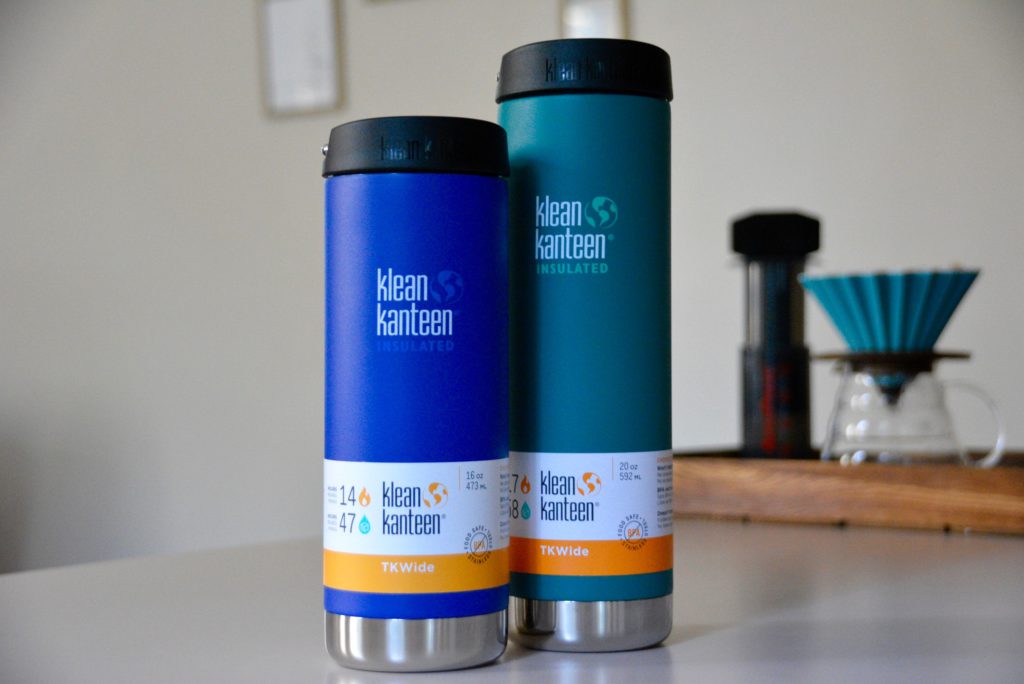 Environmental: Eco-friendly, safe, and high-quality materials
Besides looking good, these Klean Kanteen tumblers and lids are made of environmentally-friendly and environmentally-responsible materials. The powder coat, know as the Klean Coat finish, works to protect the travel mugs and make them all the more durable. Strong products mean long-lasting products. This reduces the environmental impact, as there is a lower chance of needing to buy replacement bottles thus saving the planet on resources and energy.
Additionally, since there are a variety of lids in this kit, this makes these insulated tumblers versatile. This again means you can buy fewer bottles and simply switch out the lids when switching between coffee, smoothies, and water.
Overall, we were convinced that these travel mugs will last us a long while because of their durable construction. We even dropped them a few times (by mistake!), and haven't found any chips or even any marks on them. They're absolutely made for wear and tear.
Performance: Maintains temperature flawlessly, especially for iced coffee drinks
We used these insulated tumblers for water, coffee, iced coffee, and tea. We found that they worked incredibly well to keep all drinks at their ideal temperature. This is due to the excellent Climate Lock Vacuum Insulation. The 16-ounce travel mug keeps drinks iced for up to 47 hours and hot for up to 14 hours. The 20-ounce travel mug does it better in keeping cold drinks iced for up to 63 hours and hot for up to 17 hours.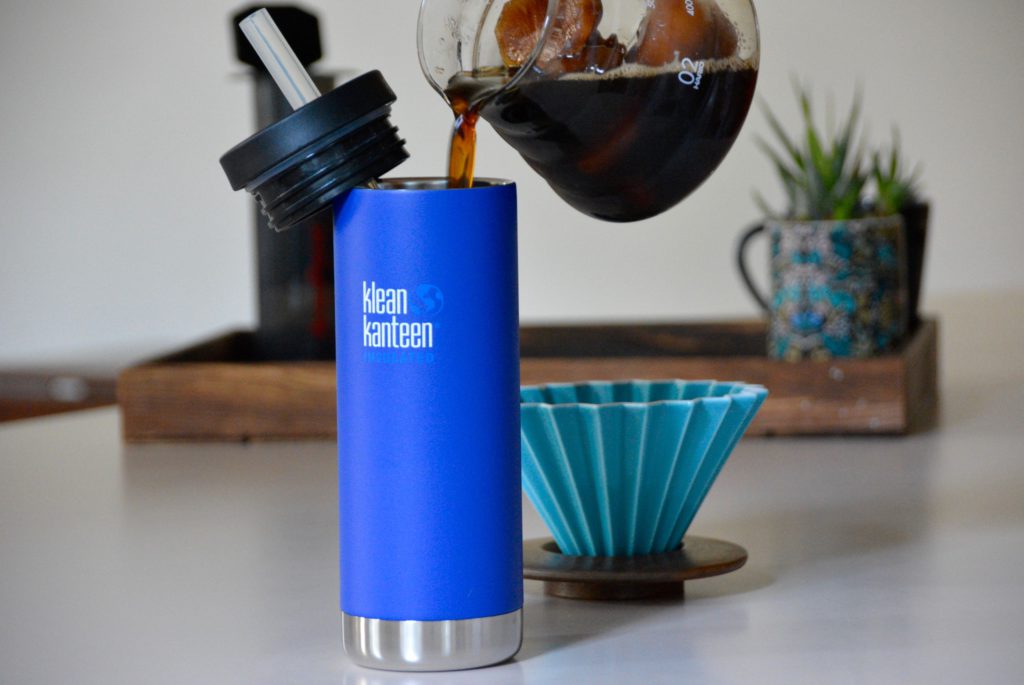 In testing these travel mugs with several drinks, we found that we liked them best for iced coffee. First off, we loved how our ice stayed in the form of ice inside of these tumblers and didn't melt thus, watering down our iced coffee. We also absolutely loved the Klean Kanteen straw. The soft, silicone top made it so comfortable to use, and we never had to worry about chipping our teeth.
Additionally, we also found that drinking hot coffee out of the travel mugs with the Café Cap worked well too. The sliding lid was convenient for when driving around with the mugs in the car. We noticed that this lid didn't keep the drinks as well-insulated compared to the Wide Cap.
We also loved using the insulated tumblers for drinking cold water. As someone who loves very cold water, this is the best solution for keeping water ice cold. We could keep a lot of water in our tumbler without having to constantly refill it. Plus, it stayed cold all day long!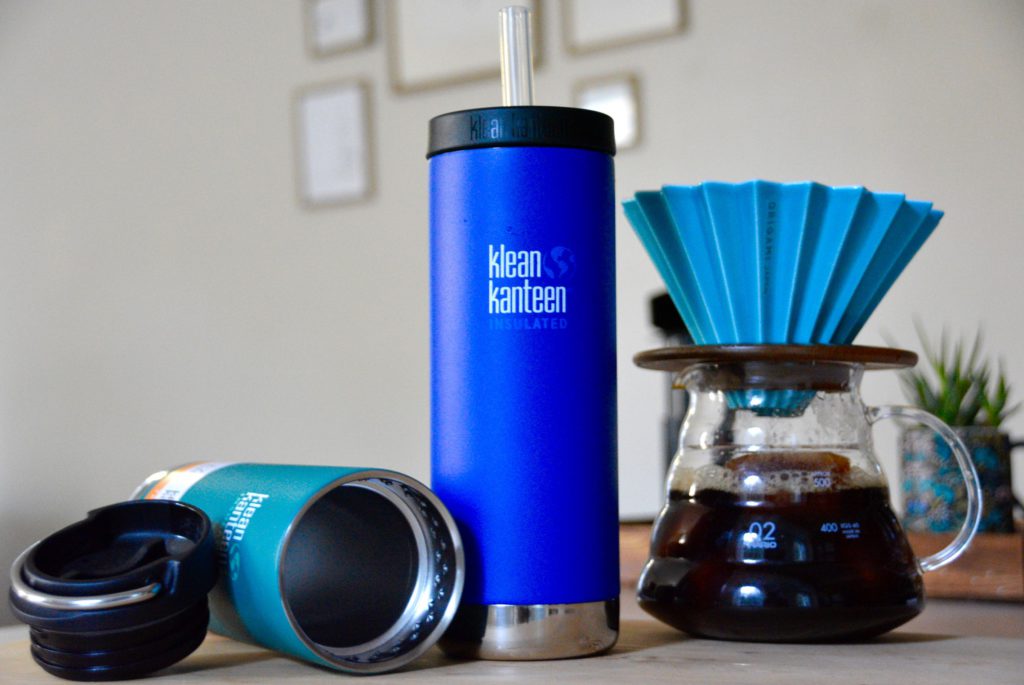 One minor thing we didn't like about the tumblers is that the interior is made of stainless steel. This gives off a slight metallic taste to the drinks inside. We really only noticed a taste difference with coffee drinks.
The reason we bring this up is because some travel mugs, such as the Fellow Carter Everywhere Mug, have interiors with ceramic coatings. This helps to keep the coffee completely pure and free of lingering oils and odors. It's not a total deterrent, but it is something to be aware of when considering this purchase.
Cleaning: Dishwasher-safe, and breaks down for easy cleanup
The insulated tumblers, lids, and straw are all dishwasher-safe, which makes the cleanup very simple and quick. Another perk in the cleaning department is that the Café Cap and straw come apart to make it easier to clean out those hard-to-reach areas.
We try to wash our tumbler once a day (or at least give it a rinse) to prevent bacterial buildup. It only takes two minutes to do a quick rinse, and a deep cleaning takes only about 5 minutes.
Price: A Steal
Considering the individual pricing of all of the 6 components in the Klean Kanteen Coffee & Tea Kit, this set ends up being a steal, retailing for around $65. This is considerably less than if you'd buy all of the pieces individually. To make this set even more of a deal, all of the products are backed by the lifetime Strong as Steel Guarantee. This means that if you are less than satisfied with one of Klean Kanteen's products, you can return it for a replacement, refund, or repair.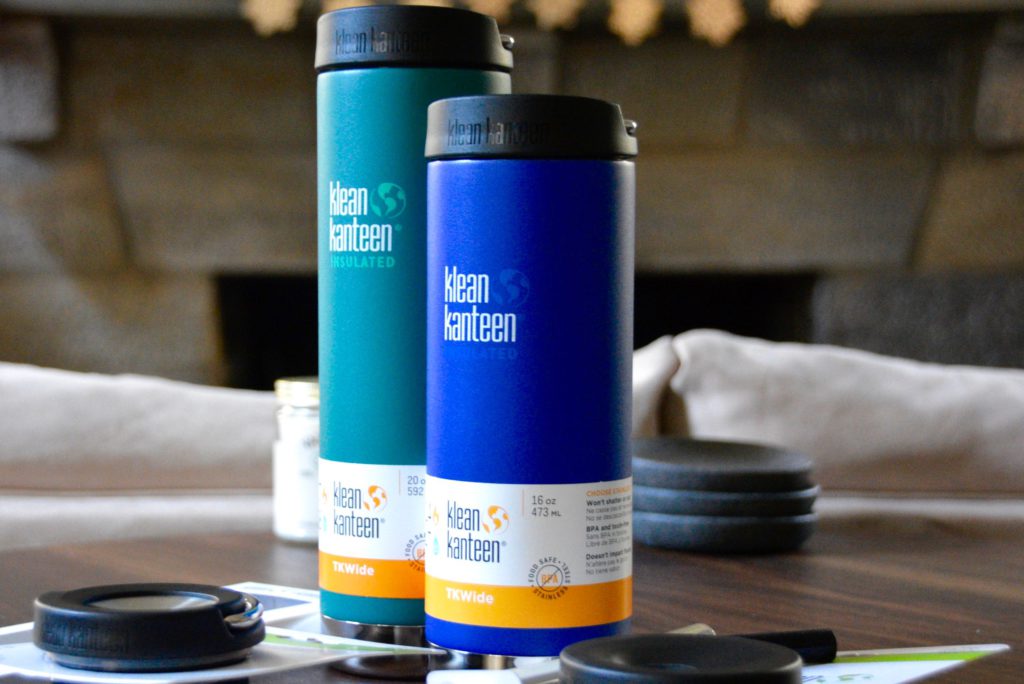 Klean Kanteen Coffee & Tea Kit versus Stanley Classic Trigger-Action Travel Mug Twin Pack, 20-ounce
Stanley, another environmentally-conscious brand, offers a similar set of thermoses similar to Klean Kanteen's kit of insulated tumblers. Stanley's Classic Trigger-Action Travel Mug Twin Pack includes two 20-ounce travel mugs measuring 10 x 2.9 inches and two lids. Each mug is made of BPA-free stainless steel with double-wall vacuum insulation.
In terms of differences, Stanley's mugs fall slightly short compared to Klean Kanteen's mugs when it comes to insulation. Stanley's mugs can keep hot beverages hot for up to 9 hours and iced beverages cold for up to 40 hours. With that said, Stanley's twin-pack retails for around $40 (though offers a few less items in the set), which is a bit less than Klean Kanteen's bundle.
Ultimately, it comes down to what your budget is and what kind of use you're looking to get out of your travel mugs. If you're interested in an excellent budget option, Stanley is a great buy. But if you want more options in terms of caps to accommodate various drinks, Klean Kanteen may be worth the extra investment.
Final Thoughts: Buy them while you still can!
If you're looking for a stylish travel mug to accommodate various beverages beyond coffee, the Klean Kanteen Coffee & Tea Kit is worth buying. Not only does it include a number of caps to accommodate several beverage types, but it also insulates beautifully to keep drinks at their ideal temperature for hours on end. Plus, all of Klean Kanteen's products are backed by a lifetime warranty and are made from environmentally-friendly materials. Do yourself a favor, and grab these lovely travel mugs while they're still available.
Specs:
| | |
| --- | --- |
| Product Name: | Klean Kanteen Coffee & Tea Kit and Bundled Set |
| Product Brand: | Klean Kanteen |
| Price: | $65.95 |
| Weight: | 13.9 ounces; 15.8 ounces |
| Product Dimensions: | 8.65 x 3.0 inches; 10 x 3.0 inches |
| Color: | Deep Surf, Juicy Pear |
| Capacity: | 16 ounces; 20 ounces |
| Warranty: | Lifetime |
| What's included: | 1 insulated tumbler (16-ounce), 1 insulated tumbler (20-ounce), 2 Café Caps, 1 Wide Loop Cap, and 1 Straw Cap (straw included). |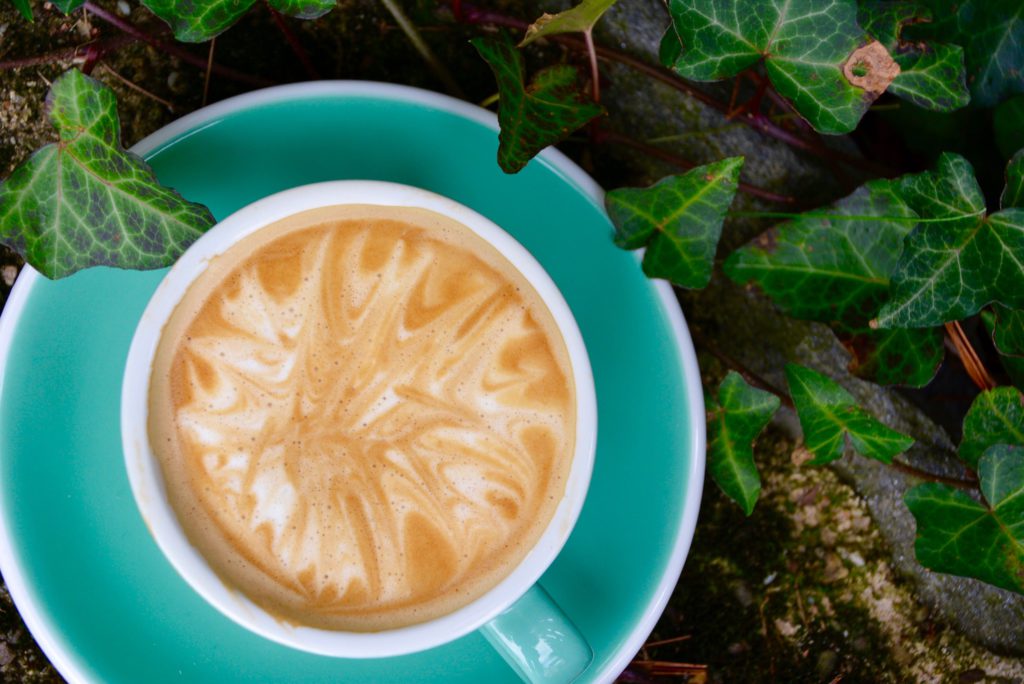 Want to brew barista-level coffee at home?
Join my newsletter to receive my free home-brewing guide. PLUS, you'll get instant access to ALL freebies in my resource library including bonus recipes, pairing ideas, and more brew guides!