Boba coffee is an up-and-coming beverage winning hearts all around the world. Learn what it is & how to make it.
Guest Post By: Marko Lazarevic, founder of Craft Coffee Spot
Boba coffee is an up-and-coming specialty coffee beverage winning hearts all around the world.
To make boba coffee, simply combine your favorite coffee drink with boba — a dark-colored, jelly-like substance.
Take a look at a few of our favorite boba coffee recipes below or jump straight to them

by clicking here

.
If you're a dessert or coffee aficionado, you may have already heard of boba coffee. This coffee beverage is becoming increasingly popular all around the world. But if you haven't yet heard of it, we're here to help you out.
In this piece, you will learn the origins of boba, its rise to popularity, what boba coffee is, and how to make the most delicious boba coffee at home. Once you give boba coffee a try, it may very well become your new favorite specialty coffee drink.
To learn more about this popular beverage and a few recipes to try at home, continue reading below.
Quick Links To Info In This Post
All About Boba
Boba is a dark-colored, jelly-like substance typically made out of tapioca pearls. The tapioca comes from the starch of a cassava root, the root of a South American plant also known as yucca.
The act of turning yucca into tapioca balls and submerging them in a cold beverage came from the country of Taiwan. Although it is sometimes attributed to Japanese or Korean culture, Taiwan is credited for first drinking boba tapioca balls in their tea and even coffee.
Boba has a chewy, gummy-like texture. The taste is sweet, but not overpowering, so it makes for an excellent natural sweetener. It can often taste mildly of cane sugar, rice, starch, or even of botanicals.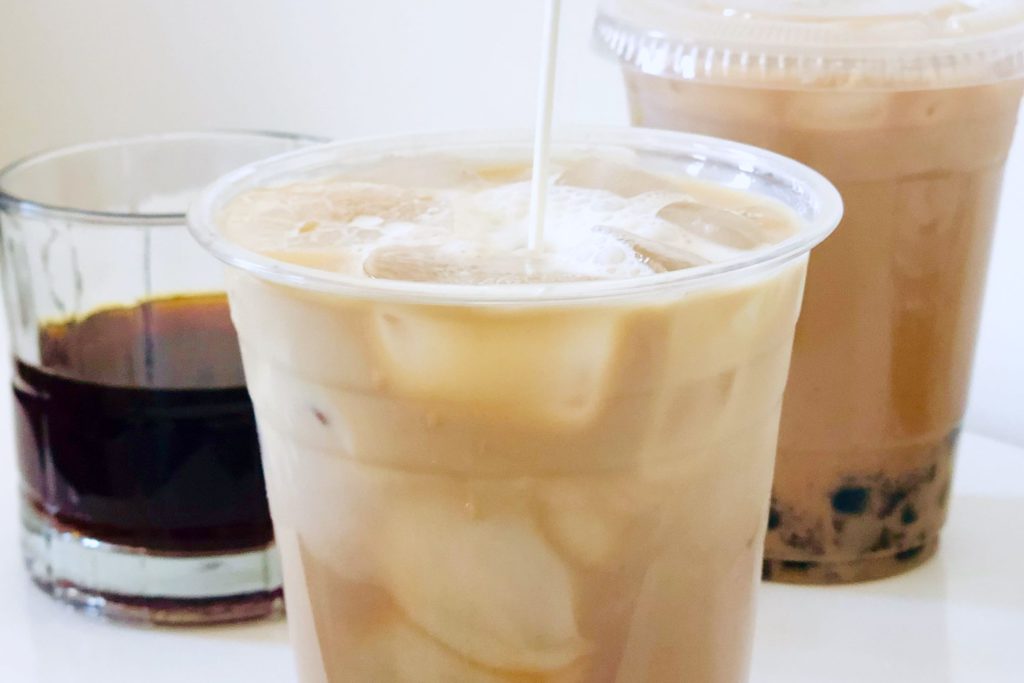 The unique flavor profile of boba adds intrigue and adventure to any drink. Boba is almost always added to cold drinks, including coffee, but can also be enjoyed hot if desired.
Why Has Boba Become So Popular?
Originating in the early 1980s, boba has gained immense popularity throughout the 1990s in novelty soda, tea, and smoothie shops. It is now making a resurgence thanks to youth culture and its visual appeal that is so widely shared across social media platforms such as Tik Tok and Instagram.
You're most likely to have first seen boba as the black balls at the bottom of bubble tea, its most popular use today. Recently, boba has started to be used in coffee drinks.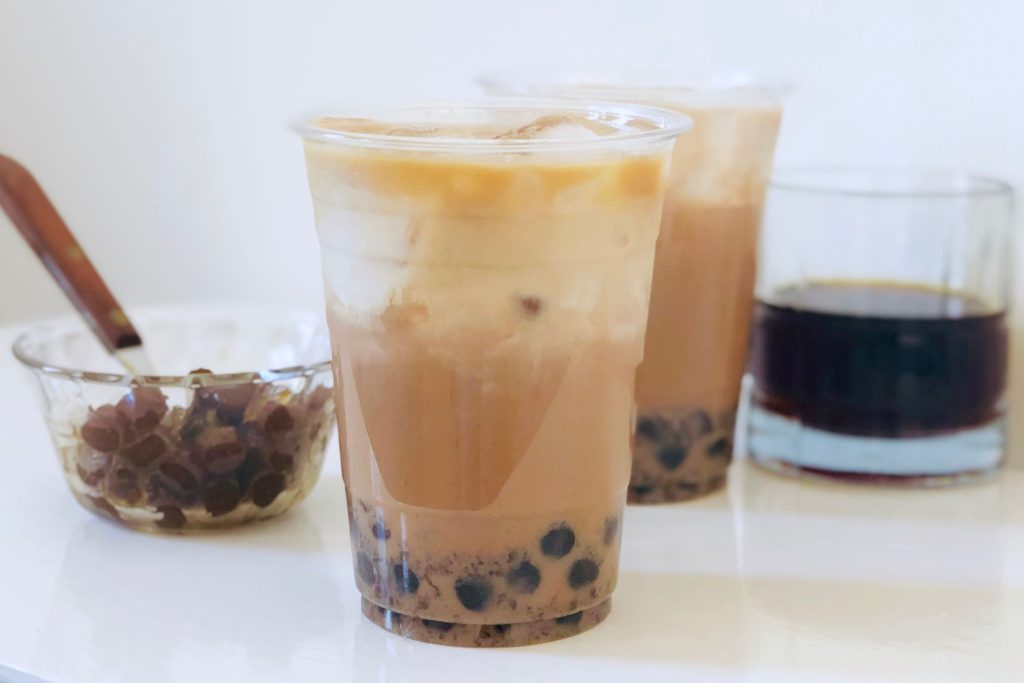 What is Boba Coffee?
In simple terms, boba coffee is just boba mixed with coffee. The definition is more straightforward than boba tea, which is steeped and brewed in milk and then poured over ice.
"I've had boba coffee a couple of different ways, and I love how the boba pearls add texture and natural sweetness to my coffee."
-Marko Lazarevic, Coffee Expert
With that being said, boba coffee does leave more room for improvisation, and it is usually mixed with milk, sugar, flavoring, ice, and a caffeinated additive such as cold brew coffee, caffeine syrup, concentrated coffee sauce, or even espresso.
Spice Things Up with Boba in Your Drink
No matter your favorite type of coffee, boba coffee can add excitement to your morning. Whether you favor lattes, frappuccinos, dalgona coffee, or even cold brew, boba coffee is the delicious tapioca ball beverage that will have you coming back for more.
Check out a few of our favorite recipes below!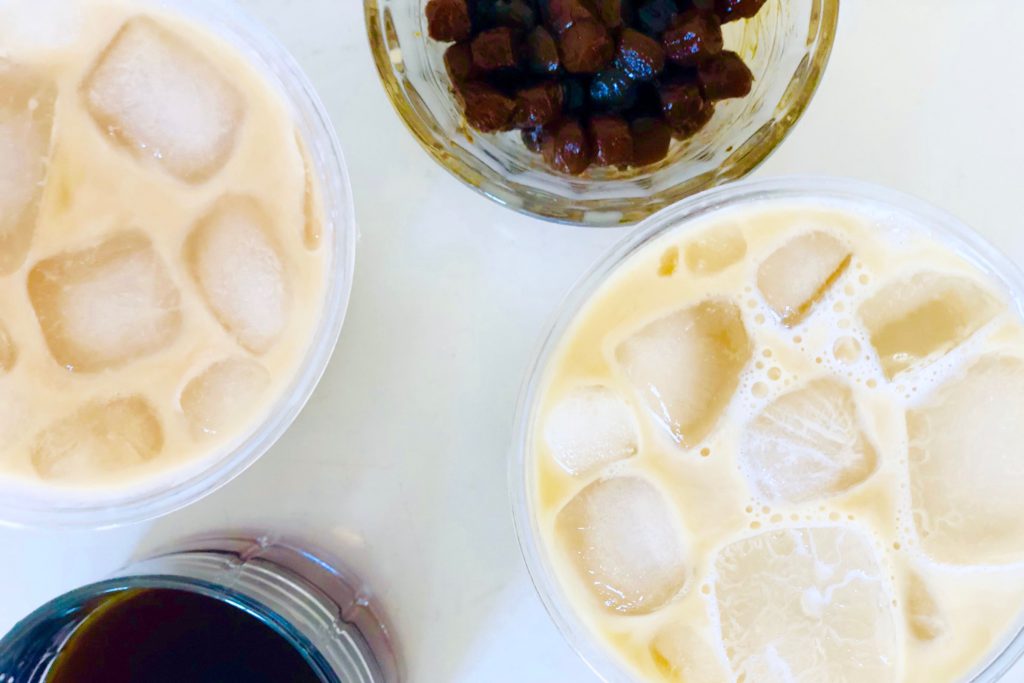 How to Make Different Types of Boba Coffee
There are many ways to get creative with boba coffee. Below, you'll find three different recipes to enjoy at home.
1. Boba Coffee with Cold Brew
Boba coffee with cold brew tends to be less sweet than other boba coffee drinks, and it will give you a strong morning pick-me-up. Its ingredients include:
Simple syrup
Honey
½ cup of water
Coconut or cane sugar
⅓ cup of black boba pearls
½ cold brew coffee
Milk (optional)
Ice cubes (optional, as it's traditionally enjoyed without ice)
Watch the cold brew making video below or

start the 3-day mini course

to step up your cold brew game.
To make boba coffee with cold brew, follow the instructions below:
Boil your water.
Add your sugar and honey to the water and mix.
When your mixture turns into syrup, let it cool.
Make your boba by combining water and tapioca, stirring until it hardens and the balls float to the top.
Drain your boba and let it rest in the fridge until cool and dark-colored.
Add your syrup and boba to a 16-ounce glass of cold brew coffee (see a homemade cold brew recipe

here

).
Option to add ice and a reusable straw.
Enjoy!
2. Boba Coffee Frappuccino
The boba coffee frappuccino is a year-round favorite, and can easily be made as a fully-caffeinated coffee boba beverage or as a decaf mocha version for kids to enjoy. The ingredients you will need are:
1 cup of espresso
2 cups of crushed ice
3 tablespoons of sugar
1 cup of milk
Optional whipped cream
1 cup of boba pearls
Optional chocolate syrup and other toppings
To make your super sweet blended treat, follow the directions below:
Blend ice, milk, espresso, and sugar until blended without large ice chunks.
Remove and stir with a spoon.
Pour your boba pearls into a glass.
Pour your frappuccino mix on top of your boba.
Option to add whipped cream, chocolate sauce, and other toppings. You can also add leftover boba on top.
Enjoy with an optional reusable straw!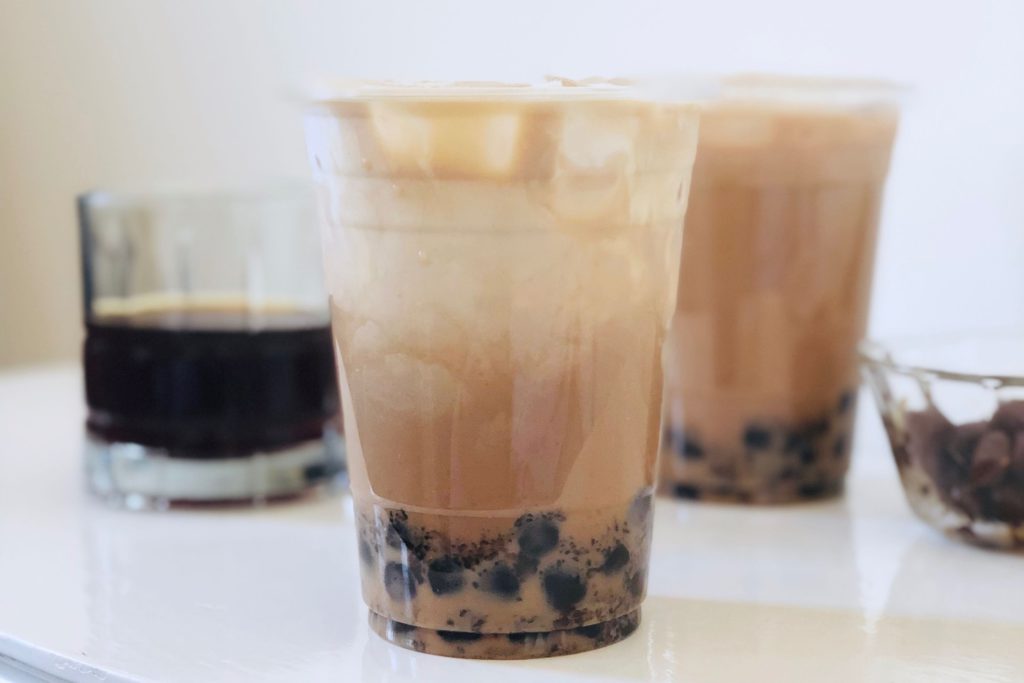 3. Dalgona Coffee with Boba
Last but not least, we have Dalgona coffee. This frothy beverage is another huge coffee trend that set the internet ablaze with activity last year. It's also a popular vessel for making a boba coffee beverage. To create your own dalgona coffee with boba, use the following ingredients:
1 tablespoon of maple syrup
½ cup of boba tapioca balls
Granulated sugar to taste
2 spoons of ground instant coffee
Milk of your choice; coconut milk and whole milk are excellent options
2 tablespoons of boiling water
To make a yummy boba dalgona coffee, follow the directions below:
Boil your water in a saucepan.
Either make your boba tapioca balls or drop store bought ones into the water to cook.
Add sugar to sweeten the boba.
Add instant coffee to the water and sugar.
Whisk until thick and frothy. The mixture should be a beige, tan, or light brown color, and the consistency should be between a custard thickness and a delicate whipped cream.
Spoon boba into your glass, followed by the milk of your choice and then the coffee froth.
Stir, sip, and enjoy! Option to drink with a reusable boba straw.
Sign up for our free Cold Brew Making Mini Course
Learn to Make The Best-Tasting Cold Brew At Home!
Making cold brew coffee doesn't have to be difficult nor expensive, which is why we're offering you this free course. You will learn how to brew the best-tasting batch of cold brew as well as how to avoid some of the most common brewing mistakes.
Sign up to start the cold brew course today!