Transform your coffee at home by using a scale to measure your beans and water precisely.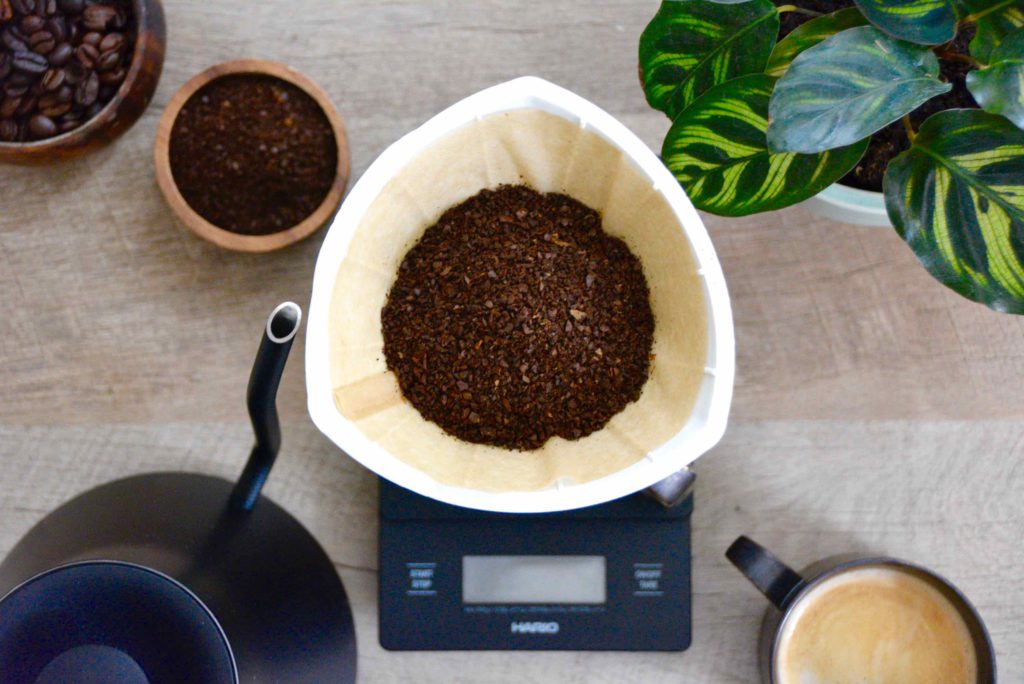 Brewing quality coffee at home requires the right tools and techniques.
Using a scale during a brewing session can greatly improve your cup of java.
For best results, find a scale that is digital, measures in grams, and takes up little counter-space.
Like other hobbies, brewing quality specialty coffee is an investment of both time and resources. To set yourself up for success, it's important to get the proper tools for brewing craft coffee. The most basic coffee tools include a burr grinder, a thermometer, a gooseneck kettle, your choice of a brewing instrument, and a scale.
A scale is an incredibly helpful tool in obtaining the right coffee to water ratio for your brew session. Read on to find out why you'll want to use a scale in your next brewing session as well as learn how to use a scale in your coffee brewing endeavors.
Why should you use measurements when brewing coffee?
Your coffee will taste better.
Let's get to the main point of using a scale in your coffee brewing session — to make it taste better. In being precise about how much coffee and water you use, you can obtain a high-quality cup of specialty coffee at home.
The correct measurements will lead you to a cup of coffee that is perfectly light in body and has a great clarity of flavor. This profile is what much of the specialty coffee community strives for when brewing coffee.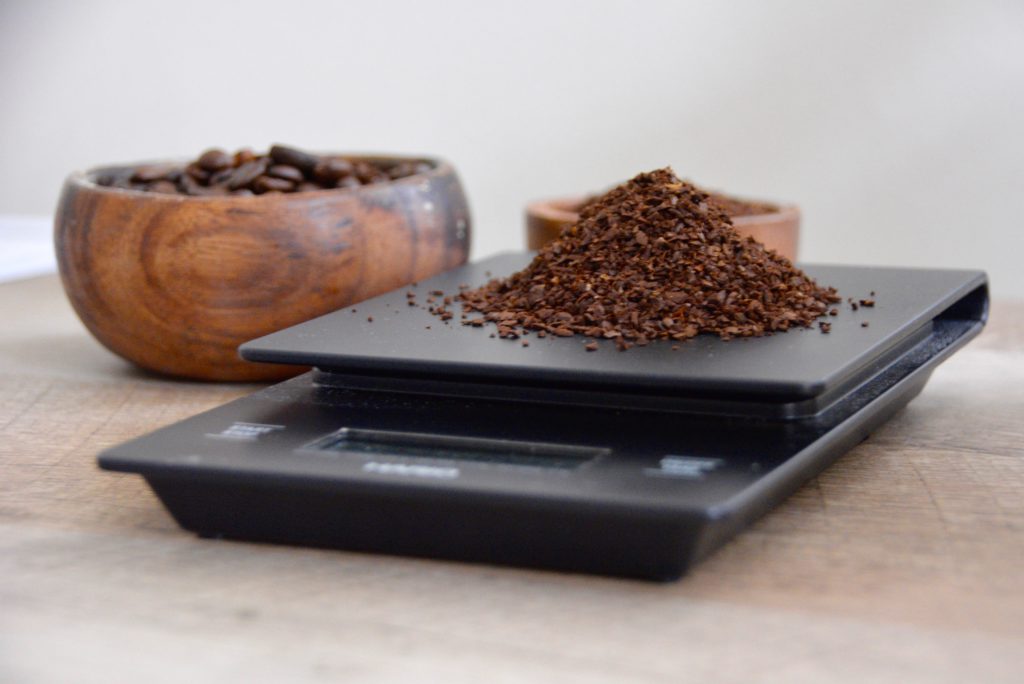 Measuring your water and coffee can help you to obtain the right ratio.
Besides making your cup taste better, measurements can help you achieve a balanced coffee to water ratio. Unfortunately, too many people just use a measuring scoop to figure out their ratio. But this isn't the best method, as coffee roasts vary greatly by mass. Some beans are small and some are much larger, which proves this method of measuring will never be that accurate.
Thus, a scale provides you the ability to measure the exact weight of your beans with much more accuracy. Knowing this measurement, in turn, allows you obtain a ratio to go by when brewing your coffee.
For a frame of reference, the industry standard is 1:18 (one part coffee to 18 parts water). This is a good place to start when first using a scale. As you work with the scale further, you'll pick up on what ratio you might prefer.
Precise measurements help to produce a consistent brew.
Lastly, in using precise measurements during your daily coffee routine, you are more likely to find that your coffee is more consistent than ever. Consistency is so necessary in brewing quality coffee to not only help you prevent a bad brew (and less waste too!), but to also give you the confidence to know that you can and will brew a good batch of coffee.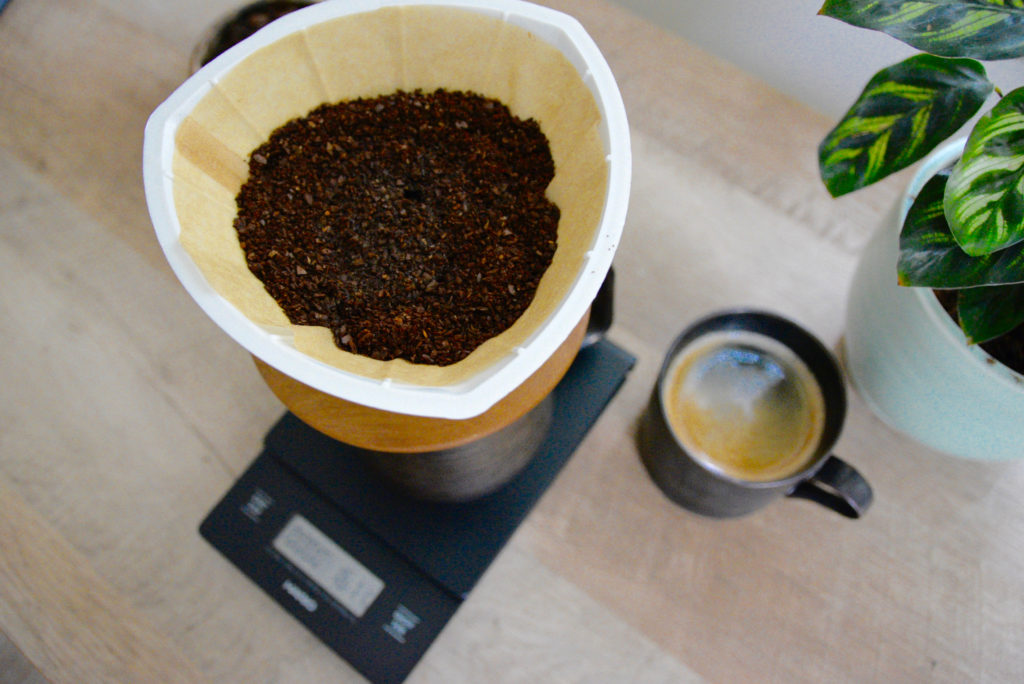 You can continually use and refine your previous measurements (of coffee and water) to brew a balanced cup every brew session.
How do you use a scale for coffee brewing?
Invest in a nice scale that measures in grams (ideally a scale made for coffee brewing).
If you're fully committed to brewing specialty coffee at home, then you probably already have a nice brewing instrument and a burr grinder. But you can't stop there and hope for the best, you also need to a high-quality scale to get you to that good cup of coffee you crave at home.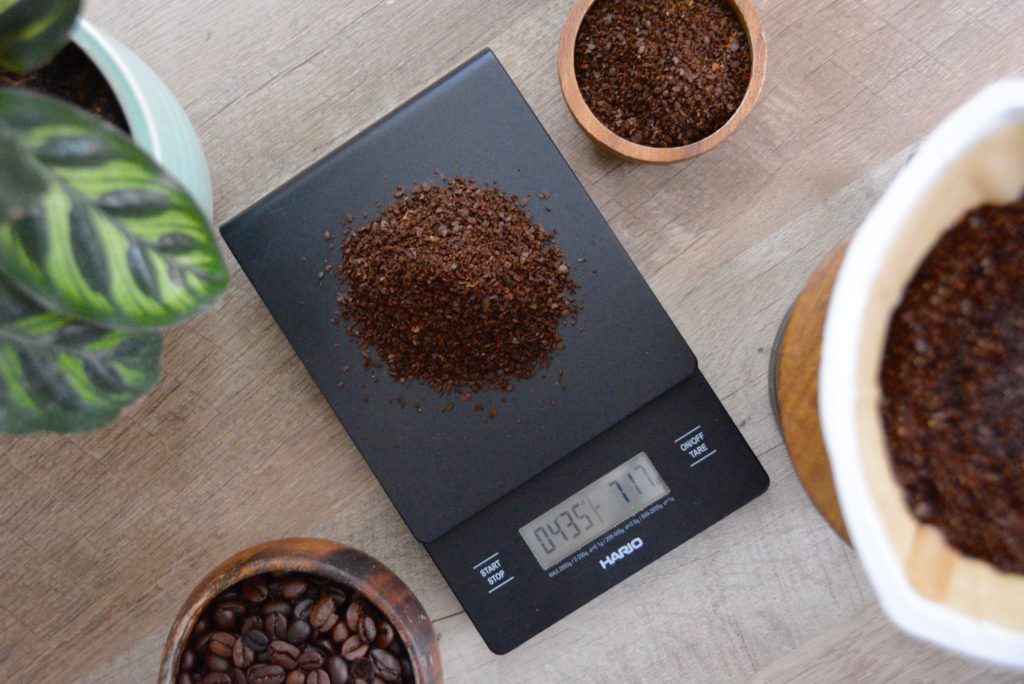 There are scales designed specifically for coffee brewing such as the Hario V60 Drip Coffee Scale. But you can get away with any food scale that meets the following criteria:
Look for a scale that's digital. Reading a digital scale will make your life a whole lot easier than deciphering where that arrow is pointing. It's also important to find a scale that measures to within two decimal places if possible. And lastly, find a scale that has a small footprint. Since you're going to be using it for coffee, you likely want it to fit snugly with the rest of your coffee gear, so opting for a small scale is best.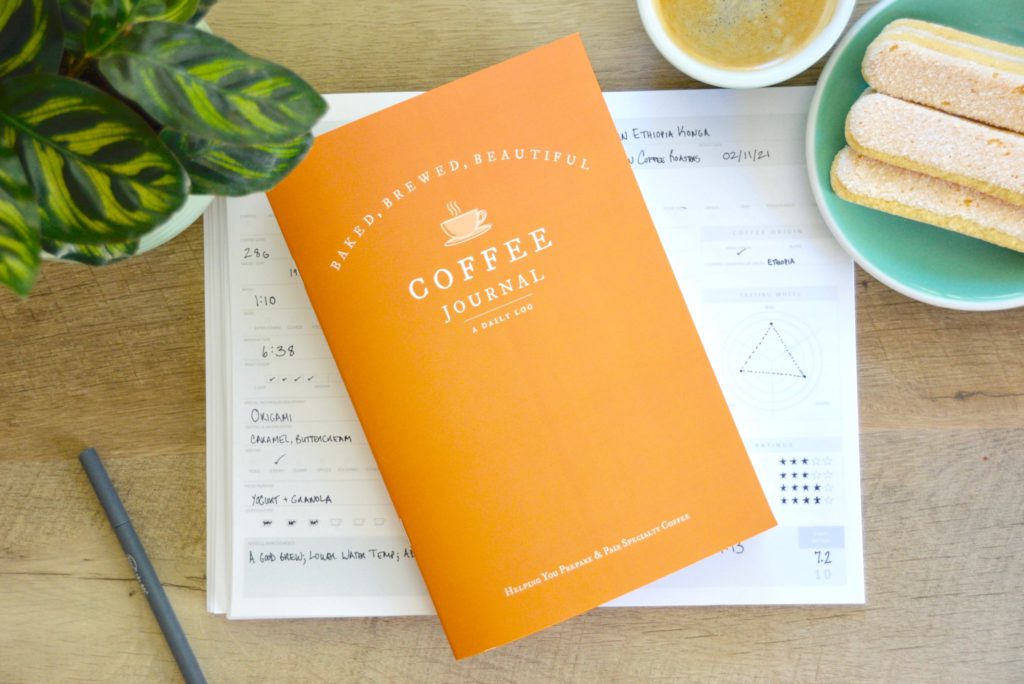 Track Your Daily Coffee Routine With The
Coffee Journal
The Coffee Journal helps you to capture the most important details of your daily brewing routine in one organized location.
In recording your regular brewing process, you can refine your cup of java & enjoy more consistent, quality coffee at home.
Get Started For Only $24
Or grab the digital version for only $18
Find a coffee to water ratio that suits your coffee strength preference.
As previously mentioned, the industry standard is 1:18 (coffee to water ratio). It's easiest to think of this in terms of grams. If you use 100 grams of coffee, you would need 1800 grams of water. Ultimately, this ratio can change based on personal preference. If you're just learning to brew craft coffee at home, this 1:18 ratio is definitely a good starting point. This yields an almost tea-like body.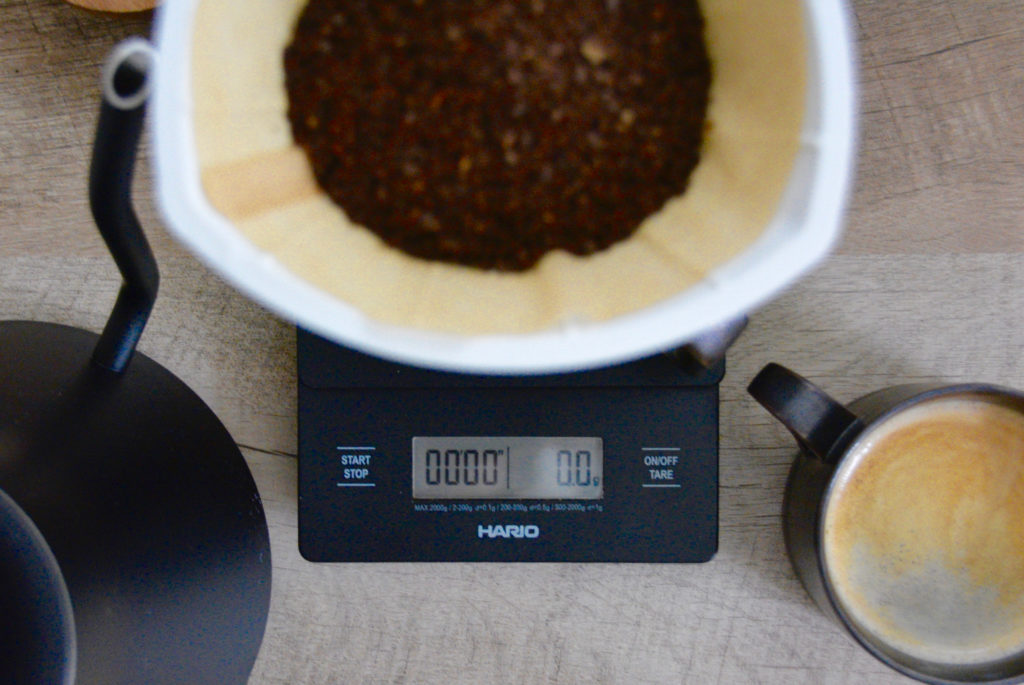 If you prefer a medium body, go for a 1:14 or 1:15 ratio. This recipe will yield a much lighter-tasting cup. If you are someone who likes something bolder, opt for a 1:12 or a 1:13 ratio.
Tare the scale and weigh your coffee beans first.
Once you've figured out which ratio you're going to go with, place a clean container or cup on the scale that can hold your beans when you weigh them. The container just houses the beans, so you're not putting them directly on the scale to avoid a big mess. Tare the scale with the container before you add the beans to it.
Next, add the coffee beans a little bit at a time until your desired weight has been reached. Proceed to grind your beans as normal.
Measure the water as you brew by placing your brewing vessel on the scale if possible.
After you've measured and ground your beans, there are a few ways to approach the next step when it comes to measuring your water, and it ultimately depends on what brewing method you've chosen.
For pour over or AeroPress, it's ideal to place the brewing instrument with the coffee grounds directly on the scale (if it will fit), and then zero the scale again. That way, you'll be able to add water to the grounds and see what amount of water is being added.
If you're using an espresso machine, Moka pot or a French press, you will need to measure the water prior to brewing. With these brew methods, you'll just add all of the water you heated to the coffee grounds since the water was pre-measured.
Pat yourself on the back for measuring your coffee and water properly!
The next thing to do is to pat yourself on the back for being disciplined enough to try this measuring method out. Next, go ahead and enjoy that cup of coffee that you worked so hard on.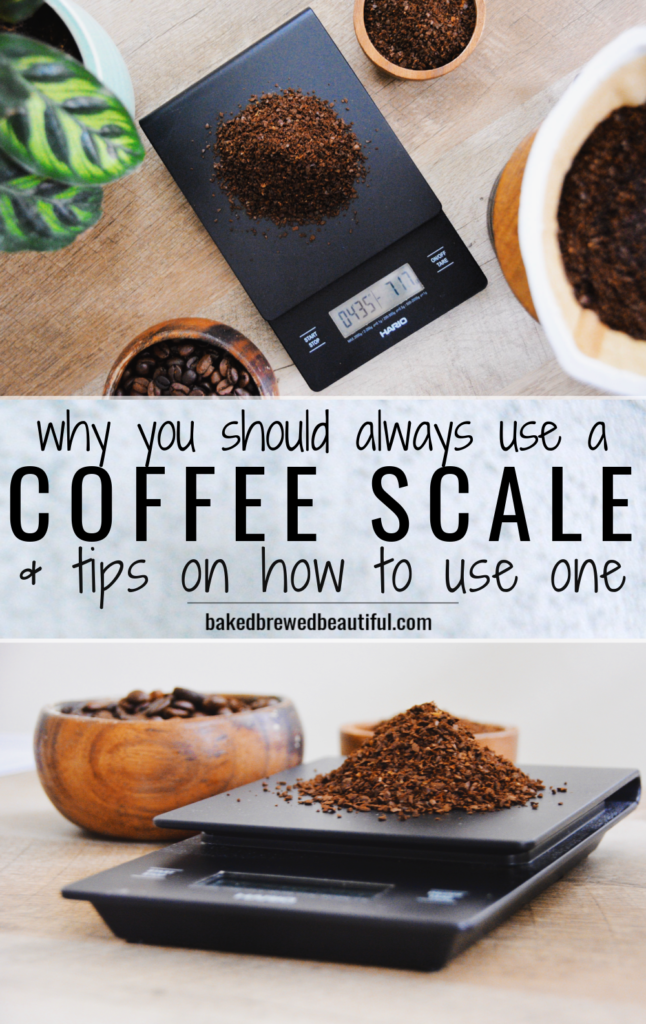 Then, assess whether or not this coffee to water ratio worked for you. If not, determine how you'll vary the ratio for your next brewing session to get it where you want it to be.
If you're still totally lost when it comes to coffee brewing, download my FREE brewing guide for some extra pointers. It's a perfect complement to what's just been outlined in this article. Grab yours today!
Need a few pointers to brew better coffee at home?
Subscribe to my newsletter (free!) & get instant access to my FREE resource library to grab my free home-brewing guide!
PLUS gain access to more freebies like bonus recipes, coffee hacks & my personal coffee product picks and recs!